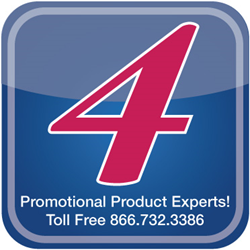 Essex, CT (PRWEB) June 16, 2014
According to FIFA.com the World Cup is the most-watched sporting event in the world. Soccer is arguably the biggest sport in the world and the World Cup brings out national pride on every continent. 4AllPromos supports the World Cup with a vast array of custom imprinted and promotional soccer products and sports gear including sport bottles, apparel, thundersticks, stadium cushions, gym bags and much, much more.
This three-week long event is a perfect opportunity for marketers to run campaigns, promotions and create incentives for soccer fans everywhere. According to Counselor Magazine the Hispanic demographic is the fasting growing demographic worldwide. In fact, a recent article by the magazine claims the Hispanic popular is expected to grow 167 percent from 2010 to 2050. Coincidentally, soccer is the most popular sport of the Hispanic demographic so the World Cup is a great time for businesses and advertisers to lock in this audience.
Large sporting events, festivals, award ceremonies and other worldwide events are a great time for advertisers and marketers to target specific demographics. Market research can help businesses evaluate idea audiences and hone in on what customers are clamoring for. Promotional products are a fantastic way to reach out to customers. Custom imprinted items such as reusable tote bags, drinkware, office supplies and apparel are an affordable way to get the attention of prospective customers and clients.
Market trends are always changing so it's important for advertisers and business owners to stay attuned to current events, trends and supply and demand to ensure they are staying relevant to customers' needs. The World Cup is a great example of how many large advertisers are changing campaigns and messages to reach out to a single audience across the world.
4AllPromos is a leading online marketing of custom imprinted, promotional and engraved products including tote bags, drinkware, office supplies, party favors, apparel, tradeshow giveaways and more. To learn more about how 4AllPromos can help businesses, schools, non-profits and other organizations market effectively and economically visit http://www.4allpromos.com or call 1-866-732-3386 to speak to a product specialist. 4AllPromos maintains a Lowest Price Guarantee for all our products compared to competitors.