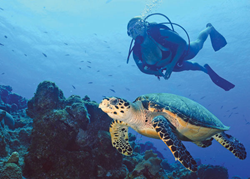 While tourism supports local economies it can also be harmful to marine habitats if we don't make preservation a priority.
Providenciales, Turks and Caicos Islands (PRWEB) June 06, 2014
Ahead of World Oceans Day on June 8th Caribique Villa Rentals has highlighted four of the most awe-inspiring oceanic sights in the Caribbean, celebrating the beauty and diversity of the islands and raising awareness of growing threats to marine life.
Bioluminescent Bay, Puerto Rico
Night time visitors to Puerto Rico's Vieques Island can kayak through an enchanting mangrove lagoon to experience the extraordinary bioluminescent bay. Millions of glowing underwater microorganisms called dinoflagellates emit a flash of blue-green light when agitated, revealing swirling displays of luminosity across the bay's placid waters.
Sadly, scientists have reported that the bay is glowing less frequently as the delicate ecosystem supporting the bioluminescent organisms is increasingly threatened by local development. Tours of the bay have been limited to three days a week in an effort to prevent further damage to the dinoflagellate population. Without a strong collective effort to restore the lagoons of Vieques Island, time may be running out to see this natural Caribbean wonder.
Coral Reefs, Turks and Caicos
The calm turquoise waters and powdery white sand beaches of Turks and Caicos are home to the third largest coral reef in the world, making these islands a hotspot for diving and snorkelling. At the popular Bight Reef (Coral Gardens), explorers can swim among 370 species of tropical fish, whales, dolphins, sea turtles, eels, crabs, lobsters, stingrays and a colorful array of reef species indigenous to the islands.
Like most reefs all over the world, the Bight habitat is under threat – mainly due to careless boaters who veer from designated safe areas and snorkelers who disregard best practice guidelines set out to protect ocean life. The Caribbean has lost up to 80% of its coral reefs in recent years, forecasting a bleak future for diverse and delicate marine ecosystems if urgent action isn't taken.
In Providenciales, Turks and Caicos the Reef Ball Project has been underway since 2008, combating the threat to coral reef habitat by creating artificial reefs to support populations of juvenile fish and marine life.
Stingray City, Grand Cayman
A top attraction in the Cayman Islands, Stingray City gives visitors the chance to mingle with soft, playful rays found in the shallow waters of the North Sound. The sandbars in this region have been a feeding ground for the rays since fishermen began using the area to gut and clean their daily catches decades ago. Since then, Grand Cayman visitors have had a unique opportunity to experience the gentle nature of the southern stingrays first hand.
While rays are abundant on Grand Cayman's North Sound, recent studies have shown a decline in the worldwide stingray population with 1 in 4 species under threat of extinction. The biggest risk to rays is overfishing. Scientists have found that the amount of rays caught has been inaccurately reported to the United Nations by some fisheries for years, leaving certain species at higher risk.
Swimming with Sea Turtles, Barbados
Sea turtle lovers flock to the beaches of Barbados every year to swim with these gentle giants and watch hatchlings journey towards open water after emerging from nests in the sand. Many catamaran sea turtle tours offer an afternoon of cruising the coastline, snorkelling, interacting with leatherback and hawksbill turtles and exploring coral reefs, with lunch and refreshments included.
The sea turtles of Barbados are critically endangered but happily their numbers have been in recovery since the Barbados government put strict legislation in place to protect the turtles from poachers. Locals, international volunteers and hotels owners have joined in cooperation with the Barbados Sea Turtle Project to prevent harvesting and ensure turtle nesting grounds remain undisturbed.
"Travelling the Caribbean is a magical experience I recommend to everyone but it is important to remember that we have a huge part to play in preserving these unique and beautiful Caribbean habitats," says Carl McBurnie, owner of Caribique Villa Rentals. "While tourism supports local economies it can also be harmful to marine habitats if we don't make preservation a priority. Before interacting with Caribbean wildlife, do your research and respect the guidelines so we can ensure these natural wonders are still intact for future generations."
Anyone interested in participating in one of the many events planned for World Oceans Day can find out more on http://www.worldoceansday.com.
About CARIBIQUE
CARIBIQUE Villa Rentals is owned and operated by CARIBIQUE Ltd., a company in the "Beautiful by Nature" Turks and Caicos Islands. Their user-friendly website offers almost 180 Caribbean villas in 16 popular Caribbean destinations. For more information about listing a villa on the website or booking a Caribbean vacation, contact Carl McBurnie or visit http://www.caribiquevillarentals.com/.
"We're not just unique, we're CARIBIQUE!"