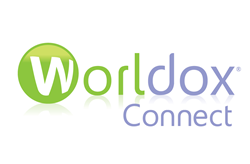 "Workshare has a strong heritage servicing the confidential sharing requirements of the leading legal and professional services firms. Worldox Connect will drive productivity savings for end users and file security for the business." said Ray Zwiefelhofer
NATIONAL HARBOR, MD (PRWEB) August 30, 2016
World Software Corporation® and Workshare® have enhanced their strong partnership to bring secure collaboration to Worldox customers. Branded "Worldox Connect", powered by Workshare, the new product will allow documents to be shared securely outside the organization while maintaining control of the documents within the Worldox Email and Document Management System.
Worldox Connect will be bundled with the Hosted Worldox Web product and will include mobile applications allowing access to shared documents from anywhere, providing an efficient and elegant method to organize and exchange documents during a review cycle. The ability to remove hidden or sensitive data from email attachments and encrypt them before they are sent will be included in the bundle.
Some of the Features include:

Sync your important Worldox files or matters for on-the-go use on any mobile device. Full Versioning of changed documents is supported.
Protect your outbound content by automatically removing sensitive information and comments.
Collaborate with your customers on shared documents for more efficient review cycle.
Remotely wipe sensitive firm data from any connected mobile device.
Add Digital Rights Management to outbound content restricting recipients from printing, sharing, and text scraping of documents.
Effortlessly share your content via secure link instead of attachment
Full access to Worldox content from a browser or mobile device
Full Auditing of activity for security and compliance purposes
Workshare and Worldox have launched and will be demonstrating "Worldox Connect" in the Worldox demo room at the 2016 International Legal Technology Association's (ILTA) annual conference.
Ray Zwiefelhofer, President of World Software Corporation commented: "Workshare has a strong heritage servicing the confidential sharing requirements of the leading legal and professional services firms. We selected Workshare due to their unparalleled capability of not only integrating into every point of file sharing, but also due to their unique meta-driven security model, which lifts the solution well beyond the competition. The bundle will help our customers to drive productivity savings for end users and file security for the business."
Anthony Foy, CEO of Workshare said: "In a competitive marketplace, it pays to ensure your team can not only produce and deliver the highest quality content to their clients in the shortest time possible, but also to protect the firm from the ever-increasing probability of data transfer breaches. With this licensing partnership, we're adding a range of sharing features that will greatly benefit our customers' competitiveness and reduce their exposure to risk."
Worldox Connect will be available early September through the Worldox Authorized Reseller Channel.
About World Software Corporation
Founded in 1988 and based in Glen Rock, New Jersey, World Software Corporation® is an innovative leader in the Document Management Systems (DMS) category. The company's flagship product Worldox® has an install base of over 6000 companies in 52 countries. For more information about World Software Corporation and its products, please visit us at http://www.worldox.com, call 800-962-6360 or email sales(at)worldox(dot)com. Follow us on Facebook or Twitter @worldox. World Software Corporation® and Worldox® are registered trademarks of World Software Corporation. All other trademarks are held by their respective owners.