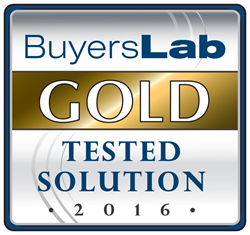 We are honored to receive the Gold Seal and such high marks from Buyers Lab. We strive to provide an excellent, industry-leading product that exceeds the expectation of our customers. It is nice to be recognized for our hard work. Ray Zwiefelhofer
Glen Rock, NJ (PRWEB) September 29, 2016
World Software Corporation's premier product, Worldox, is a market leader in email and document management focusing on law firms, corporate legal, and financial services. Worldox is utilized by over six thousand customers in 52 countries. While largely known for on premises installations, many customers are choosing the Worldox Cloud or Hybrid deployment as it allows them greater flexibility while offloading security and other key concerns that cloud computing provides.
Recently World Software announced the development of two major initiatives of great relevance in today's environment. Worldox Encryption at Rest technology will allow on premises installations of Worldox to have real-time file level encryption for their document repositories. While this technology is commonly available in the cloud, there are thousands of Worldox customers who are not ready to move into a cloud environment. This technology will provide another layer of protection. Secondly, through a strategic relationship with UK's Workshare, Worldox Connect was announced at the recent International Legal Technology Association (ITLA) conference. Connect will allow Worldox customers the ability to synchronize documents for secure collaboration with outside counsel and clients while maintaining governance over them.
The Buyers Laboratory (BLI) report states that "Among the dozens of document management system BLI has evaluated, not one delivers as wide a variety of features tailored for the legal market as Worldox GX4. It employs organizing concepts used in the legal industry (such as Client Matter, Author and Typist) to help legal professionals correctly tag and subsequently quickly retrieve electronic documents associated with their firms' cases."
"We are honored to receive the Gold Seal and such high marks from Buyers Lab. We strive to provide an excellent, industry-leading product that exceeds the expectation of our customers. We pride ourselves on our industry-leading customer support. It is nice to be recognized for our hard work." Ray Zwiefelhofer, President
About Buyers Laboratory LLC
Buyers Laboratory LLC (BLI) is the world's leading independent provider of analytical information and services to the digital imaging and document management industry. For over 50 years, buyers have relied on BLI to help them differentiate products' strengths and weaknesses and make the best purchasing decisions, while industry sales, marketing and product professionals have turned to BLI for insightful competitive intelligence and valued guidance on product development, competitive positioning and sales channel and marketing support. Using BLI's web-based bliQ and Solutions Center services, 40,000 professionals worldwide create extensive side-by-side comparisons of hardware and software solutions for over 15,000 products globally, including comprehensive specifications and the performance results and ratings from BLI's unparalleled Lab, Solutions and Environmental Test Reports, the result of months of hands-on evaluation in its US and UK labs. The services, also available via mobile devices, include a comprehensive library of BLI's test reports, an image gallery, hard to find manufacturers' literature and valuable tools for configuring products, calculating total cost of ownership (TCO) and annual power usage. BLI also offers consulting and private, for-hire testing services that help manufacturers develop and market better products and consumables.
For more information on Buyers Laboratory LLC, please call 973-797-2100, visit http://www.buyerslab.com, or email info@buyerslab.com
About World Software Corporation
Founded in 1988 and based in Glen Rock, New Jersey, World Software Corporation® is an innovative leader in the Document Management Systems (DMS) category. The company's flagship product Worldox has an install base of over 6000 companies in 52 countries. For more information about World Software Corporation and its products, please visit http://www.worldox.com, call 800-962-6360 or email sales(at)worldox(dot)com. Follow us on Facebook or Twitter @worldox. World Software Corporation® and Worldox® are registered trademarks of World Software Corporation. All other trademarks are held by their respective owners.