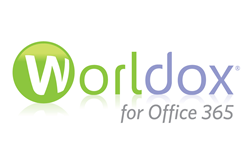 Glen Rock, New Jersey (PRWEB) January 30, 2017
World Software Corporation®, the makers of Worldox®, the award-winning document and email management solution, announces Worldox Add-in for Office 365.
Now Worldox customers with Office 365 subscriptions can leverage our Worldox Add-in to access Worldox documents from any browser. New documents created while away from the office? Worldox for Office 365 enables the saving of those documents directly into the Worldox ecosystem.
This next generation product combines the flexibility and mobility of OneDrive with the proven reliability of the Worldox document management system. While in the office, files can be checked out into OneDrive for easy access and editing while offline and out of office. Worldox documents can be searched and accessed directly from Word, Excel and PowerPoint Online.
Worldox customers can access the same Favorites, Bookmarks and Workspaces that they are accustomed to through the Worldox Add-in for Office 365.
This strategic move allows Worldox customers to leverage their investment into Microsoft's Office 365 platform and its proven security while still maintaining secure access to their work product.
About World Software Corporation
Founded in 1988 and based in Glen Rock, New Jersey, World Software Corporation® is an innovative leader in the Document Management Systems (DMS) category. The company's flagship product Worldox has an install base of over 6000 companies in 52 countries. For more information about World Software Corporation and its products, please visit http://www.worldox.com, call 800-962-6360 or email sales(at)worldox(dot)com. Follow us on Facebook or Twitter @worldox.
World Software Corporation® and Worldox® are registered trademarks of World Software Corporation. All other trademarks are held by their respective owners.