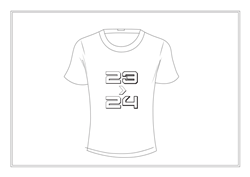 "Consumers purchase clothing out of necessity and to convey a desired image. Fortunately for industry operators, the global economic recovery bolstered consumers' ability and willingness to spend discretionary income on clothing."
New York, NY (PRWEB) April 13, 2016
World Patent Marketing, a vertically integrated manufacturer and engineer of patented products, announces Jordan Over Kobe, a new apparel invention that dedicated fans and followers of Michael Jordan will be thrilled to have.
"The Global Apparel Manufacturing industry is worth $618 billion," says Scott Cooper, CEO and Creative Director of World Patent Marketing. "Consumers purchase clothing out of necessity and to convey a desired image. Fortunately, economic recovery has bolstered consumers' ability and willingness to spend more on clothing."
"By acclamation, Michael Jordan is the greatest basketball player of all time," Jerry Shapiro, Director of Manufacturing and World Patent Marketing Inventions, quotes Michael Jordan's bio from the NBA website. "Michael Jordan was extremely popular in the 1980s and1990s and his jersey #23 was one of the most marketed sports merchandise all over the world. To this day, there's no one who can ever come close to his achievements. Our latest product, Jordan Over Kobe says just that.
Jordan Over Kobe is an apparel invention for die-hard Michael Jordan fans. It covers different articles of clothing which are decorated with a printed label or a designer strip: 23>24. While this may be an incorrect mathematical expression, it is a subtle way of saying that Jordan is better than Kobe. '23' is essentially associated with Michael Jordan and his team while '24' is with Kobe Bryant.
"Many years ago it crossed my mind that Kobe Bryant changed his number as a subtle way to one up Michael Jordan," says inventor Aaron M. "It was then that I had the idea to make a clever shirt showing once and for all who the greatest really is. 23>24 is my subtle way of saying that Jordan is greater without using words. Since mathematically this statement is false, I rely on using only colors and a symbol to spread a message that only true sports fans will understand. Since Kobe retires this year he will be compared to Jordan now more than ever, so who will you choose?"
Danny Sylvers, a sports bar manager from Anaheim, CA has this to say about Jordan Over Kobe: "In my line of work you see sports fans and know how passionate they are about their idols. I've seen people gush over Michael Jordan, and after all these years, he's still considered #1. This apparel invention will be something that every sports fan would be proud to wear."
Among his numerous accomplishments, Michael Jordan was named the greatest North American athlete of the 20th century in 1999. He is considered as second to Babe Ruth on the Associated Press's top athletes of the century list. Jordan is also a two-time inductee into the Basketball Hall of Fame.
ABOUT WORLD PATENT MARKETING
World Patent Marketing is an innovation incubator and manufacturer of patented products for inventors and entrepreneurs. The company is broken into eight operating divisions: Research, Patents, Prototyping, Manufacturing, Retail, Web & Apps, Social Media and Capital Ventures.
As a leader in patent invention services, World Patent Marketing is by your side every step of the way, utilizing our capital and experience to protect, prepare, and manufacture your new product idea and get it out to the market. Get a patent with World Patent Marketing and the company will send representatives to trade shows every month in order to further advocate for its clients. It is just part of the world patent marketing cost of doing business.
World Patent Marketing Reviews enjoy an A+ rating with the Better Business Bureau and five star ratings from consumer review sites including: Consumer Affairs, Google, Trustpilot, Customer Lobby, Reseller Ratings, Yelp and My3Cents.
World Patent Marketing is also a proud member of the National Association of Manufacturers, Duns and Bradstreet, the US Chamber of Commerce, the South Florida Chamber of Commerce, the Greater Miami Chamber of Commerce, Association for Manufacturing Excellence, and the New York Inventor Exchange.
Visit the worldpatentmarketing.com website and find out how to patent an invention. Contact us at (888) 926-8174.