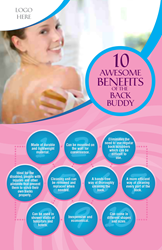 "Beauty, Cosmetics & Fragrance industry is worth $20 billion," says Scott Cooper, CEO and Creative Director of World Patent Marketing. "The reformulation of bath and beauty staples have given specialty stores more items to offer.
New York, NY (PRWEB) April 29, 2016
World Patent Marketing, a vertically integrated manufacturer and engineer of patented products, announces Back Buddy, a household invention that provides a removable and wall-mounted back scrubber that can be used to reach hard to reach areas easily.
"Beauty, Cosmetics & Fragrance industry is worth $20 billion," says Scott Cooper, CEO and Creative Director of World Patent Marketing. "The reformulation of bath and beauty staples have given specialty stores more items to offer. Industry revenue will similarly trend upward in the next five years."
Everyone has felt that itch in their back that is near impossible to reach," says Jerry Shapiro, Director of Manufacturing and World Patent Marketing Inventions. "A lot of people, especially the elderly and those with arthritis, require help when trying to reach their backs when they are bathing. The Back Buddy is an effective tool that people can use to reach those hard to reach areas that are itchy or need to be washed. It is a household invention that allows people to wash themselves without help from other people."
The Back Buddy is a back scrubber device that provides hands free relief to people. It is a rectangular mat that has suction cups attached on the back. This allows it to attach to any kind of wall surface such as the wall tiles of the bathroom. This household invention has a replaceable cleaning unit as well as plenty of resilient filaments. This allows the device to scratch or lather the back of a person easily. Since it can be moved any time, it will always reach any area that is difficult to reach. The cleaning unit can also be cleaned easily as it is detachable.
"The simple act of scratching our backs is largely taken for granted," says inventor Traci C. "For people who are disabled or for those who have broken arms or shoulders, this act is excruciatingly painful. Back Buddy is a device that has a simple premise but is designed to do wonders. This household invention does one thing but does it well as it enables people to reach their backs with little to no effort. Simply position it at the appropriate height, stick it in to the wall and it is ready to go."
James Soria, an orderly and blogger from Belleville, WI, has this to say about the Back Buddy: "One of the biggest concerns of people who get bone fractures in their hands and shoulders are how they can reach their other body part. The back area on its own is already difficult to reach with a fully functional arm; scratching it with a broken arm is near impossible. For people who have arthritis or sore joints, the Back Buddy is a great device that solves their problems. This household invention can be positioned at any height so that it can reach any body part without having to bend the affected arm."
Scratching that itch in that hard to reach area is one of life's simple pleasures. The Back Buddy makes this task easy and a lot more convenient. This household invention is designed to do one thing well and the elderly, people with disabilities and just about anyone will greatly appreciate this.
ABOUT WORLD PATENT MARKETING
World Patent Marketing is an innovation incubator and manufacturer of patented products for inventors and entrepreneurs. The company is broken into eight operating divisions: Research, Patents, Prototyping, Manufacturing, Retail, Web & Apps, Social Media and Capital Ventures.
As a leader in patent invention services, World Patent Marketing is by your side every step of the way, utilizing our capital and experience to protect, prepare, and manufacture your new product idea and get it out to the market. Get a patent with World Patent Marketing and the company will send representatives to trade shows every month in order to further advocate for its clients. It is just part of the world patent marketing cost of doing business.
World Patent Marketing Reviews enjoy an A+ rating with the Better Business Bureau and five star ratings from consumer review sites including: Consumer Affairs, Google, Trustpilot, Customer Lobby, Reseller Ratings, Yelp and My3Cents.
World Patent Marketing is also a proud member of the National Association of Manufacturers, Duns and Bradstreet, the US Chamber of Commerce, the South Florida Chamber of Commerce, the Greater Miami Chamber of Commerce, Association for Manufacturing Excellence, and the New York Inventor Exchange.
Visit the worldpatentmarketing.com website and find out how to patent an invention. Contact us at (888) 926-8174.