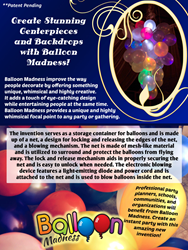 "The Party and Event Planners industry is worth $5 billion,"says Scott Cooper, CEO and Creative Director of World Patent Marketing. "This recovery is expected to persist in the five years to 2020
New York, NY (PRWEB) May 10, 2016
World Patent Marketing, a vertically integrated manufacturer and engineer of patented products, announces the Balloon Madness, a party invention designed to add a unique and highly entertaining center piece to any party or event.
"The Party and Event Planners industry is worth $5 billion,"says Scott Cooper, CEO and Creative Director of World Patent Marketing. "This recovery is expected to persist in the five years to 2020, bolstered by strengthening corporate profit and increasing discretionary income."
"When people plan parties, they would naturally try to find ways to spruce up the event location to make it seem more festive," says Jerry Shapiro, Director of Manufacturing and World Patent Marketing Inventions. "However, generic type of decorations can make party locations look dated and boring. The Balloon Madness is a party invention which will provide a unique and highly festive feel to any social gathering."
Balloon Madness is a party invention which provides a whimsical and appealing storage for balloons utilized for entertainment purposes. It is made up of quality materials and comprises of a net which serves as the storage area to keep the balloons in place, a locking design to keep the balloons inside or release when needed and a blowing mechanism which will blow the balloons while inside the net. The blowing mechanism is further designed with a guard and power cord which can be conveniently connected to a power source. The Balloon Madness is perfect for special occasions and will definitely provide whimsical aesthetics to any form of celebration.
"I am so excited about my product Balloon Madness and all the things that this will and can do from hand and eye coordination to basic games for all ages. This is like a dream that is coming true for me," says inventor Brian I. "I can hardly wait for my product to reach the Market Place. I am so excited to see my product on shelves in stores, it will bring much joy to children and adults alike, because I know this product has many uses, it can be purchased year round. There is nothing in any store that has a product that can do the things that my product does with Balloons."
Kelly Monroe, a party and events planner from Houston, TX, has this to say about the Balloon Madness: "Being an events planner, my clients rely on me to come up with the newest and coolest ideas when it comes to decorations. The Balloon Madness is an amazing creation which allows me to input a large and distinct whimsical center piece which makes every party feel more festive."
The Balloon Madness is a party invention which will add a whimsical and highly entertaining touch to any party occasion.
ABOUT WORLD PATENT MARKETING
World Patent Marketing is an innovation incubator and manufacturer of patented products for inventors and entrepreneurs. The company is broken into eight operating divisions: Research, Patents, Prototyping, Manufacturing, Retail, Web & Apps, Social Media and Capital Ventures.
As a leader in patent invention services, World Patent Marketing is by your side every step of the way, utilizing our capital and experience to protect, prepare, and manufacture your new product idea and get it out to the market. Get a patent with World Patent Marketing and the company will send representatives to trade shows every month in order to further advocate for its clients. It is just part of the world patent marketing cost of doing business.
World Patent Marketing Reviews enjoy an A+ rating with the Better Business Bureau and five star ratings from consumer review sites including: Consumer Affairs, Google, Trustpilot, Customer Lobby, Reseller Ratings, Yelp and My3Cents.
World Patent Marketing is also a proud member of the National Association of Manufacturers, Duns and Bradstreet, the US Chamber of Commerce, the South Florida Chamber of Commerce, the Greater Miami Chamber of Commerce, Association for Manufacturing Excellence, and the New York Inventor Exchange.
Visit the worldpatentmarketing.com website and find out how to patent an invention. Contact us at (888) 926-8174.