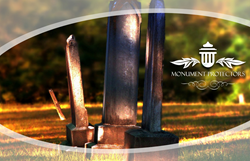 "The Cemetery Services industry is worth $4 billion," says Scott Cooper, CEO and Creative Director of World Patent Marketing. "Families have become more inclined to purchase high-value industry merchandise and burial services
Miami, FL (PRWEB) June 20, 2016
World Patent Marketing, a vertically integrated manufacturer and engineer of patented products, announces the Monument Protectors, a commemorative invention designed to provide a personalized and protective accessory for grave stones.
"The Cemetery Services industry is worth $4 billion," says Scott Cooper, CEO and Creative Director of World Patent Marketing. "Families have become more inclined to purchase high-value industry merchandise and burial services; this trend has increased the industry's revenue."
"Loved ones who have passed on from this world are provided with beautiful grave stones to remember them by," says Jerry Shapiro, Director of Manufacturing and World Patent Marketing Inventions. "However, over a period of time and constant exposure to the outdoor elements, these grave stones lose their aesthetic features and would eventually need replacement. Monument Protectors allows people to protect their loved ones tomb stones and add a personal touch to it."
Monument Protectors is designed to provide added protection to a loved one's grave stone. Made with quality and highly durable materials, this invention comprises of a cover made with heavy canvas, eyelets surrounding the edges to serve as a means to attach tent hooks and vent holes to prevent moisture from accumulating from within. At the front portion of the invention, one will be able to see the loved one's name while at the back, there is a choice for multiple designs. By using Monument Protectors, people will be able to effectively protect and maintain the grave stones of their loved ones, most particularly from overexposure to the outdoor elements.
"It started with a dream - to give families peace of mind and comfort in their hearts for their loved ones grave stones which will be protected from all harsh weather and other elements," shares inventor Audist P. "Monument protectors are made of durable material. The front is made with clear plastic to reveal the names and the back has the song "Amazing Grace" with beautiful white doves to always watch over your loved one."
Carrie Green, a businesswoman from New York, has this to say about Monument Protectors: "Being originally from Kentucky, I am unable to visit and care for my mother's gravestone on a regular basis. Monument Protectors is able to provide added protection for my mother's gravestone at all times."
Monument Protectors is a commemorative invention perfect for caring for gravestones.
ABOUT WORLD PATENT MARKETING
World Patent Marketing is an innovation incubator and manufacturer of patented products for inventors and entrepreneurs. The company is broken into eight operating divisions: Research, Patents, Prototyping, Manufacturing, Retail, Web & Apps, Social Media and Capital Ventures.
As a leader in patent invention services, World Patent Marketing is by your side every step of the way, utilizing our capital and experience to protect, prepare, and manufacture your new product idea and get it out to the market. Get a patent with World Patent Marketing and the company will send representatives to trade shows every month in order to further advocate for its clients. It is just part of the world patent marketing cost of doing business.
World Patent Marketing Reviews enjoy an A+ rating with the Better Business Bureau and five star ratings from consumer review sites including: Consumer Affairs, Google, Trustpilot, Customer Lobby, Reseller Ratings, Yelp and My3Cents.
World Patent Marketing is also a proud member of the National Association of Manufacturers, Duns and Bradstreet, the US Chamber of Commerce, the South Florida Chamber of Commerce, the Greater Miami Chamber of Commerce, Association for Manufacturing Excellence, and the New York Inventor Exchange.
Visit the worldpatentmarketing.com website and find out how to patent an invention. Contact us at (888) 926-8174.