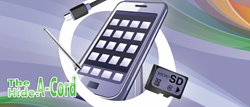 "Consumer Electronics Stores market is worth $75 billion," says Scott Cooper, CEO and Creative Director of World Patent Marketing. "Companies will be sustained by consumers who prefer to shop for big-ticket items in-store."
Miami, FL (PRWEB) July 11, 2016
World Patent Marketing, a vertically integrated manufacturer and engineer of patented products, announces the Hide-A-Cord, a mobile accessory invention created to be able to store charging cords with a mobile phone.
"A lot of people hate it when they accidentally leave the charging cords of their mobile phone at home," says Jerry Shapiro, Director of Manufacturing and World Patent Marketing Inventions. "The Hide-A-Cord provides a special compartment for charging cords to be stored in, thus providing a quick way to charge a phone."
The Hide-A-Cord is designed to provide a quicker and more practical way of storing charging cords for mobile devices. A lot of people constantly get annoyed when they could not find their charging devices for their mobile phones. This invention comprises of a casing enclosure which is capable of accommodating a charging cord without causing any damage to it and the mobile phone. What is amazing about the Hide-A-Cord is that it provides users with instant access to their charging cords without any worries. These charging cords can be easily coiled and stored when no longer in use.
"Now at your fingertips, you can reach for the charging cords to your mobile devices in an instant," says inventor Jean H. "Hide-A-Cord is the greatest invention ever. This accessory invention features a specially designed casing which allows mobile phones to be protected while gaining easy and instant access to a charging cord. With this amazing device, no one no longer needs to experience constantly trying to find a charging cord to use when needed."
Vincent Mitchell, an avid traveller from New York City, has this to say about the Hide-A-Cord: "My work allows me to travel and work no matter where I am. And because of this, I make sure that I have everything I need within my person such as a mobile phone. The Hide-A-Cord allows me to charge my phone by preventing me from leaving its charging cord behind."
The Hide-A-Cord is a mobile accessory invention designed to provide a practical way to store a mobile phone's charging cord.
ABOUT WORLD PATENT MARKETING
World Patent Marketing is an innovation incubator and manufacturer of patented products for inventors and entrepreneurs. The company is broken into eight operating divisions: Research, Patents, Prototyping, Manufacturing, Retail, Web & Apps, Social Media and Capital Ventures.
As a leader in patent invention services, World Patent Marketing is by your side every step of the way, utilizing our capital and experience to protect, prepare, and manufacture your new product idea and get it out to the market. Get a patent with World Patent Marketing and the company will send representatives to trade shows every month in order to further advocate for its clients. It is just part of the world patent marketing cost of doing business.
World Patent Marketing Reviews enjoy an A+ rating with the Better Business Bureau and five star ratings from consumer review sites including: Consumer Affairs, Google, Trustpilot, Customer Lobby, Reseller Ratings, Yelp and My3Cents.
World Patent Marketing is also a proud member of the National Association of Manufacturers, Duns and Bradstreet, the US Chamber of Commerce, the South Florida Chamber of Commerce, the Greater Miami Chamber of Commerce, Association for Manufacturing Excellence, and the New York Inventor Exchange.
Like the World Patent Marketing facebook page. And, add us on Twitter and YouTube. You may also contact us at (888) 926-8174.