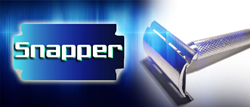 "The Shaving Razor Manufacturing market is worth $2 billion a year,"says Scott Cooper, CEO and Creative Director of World Patent Marketing. "Giants in this highly concentrated industry...
Miami, FL (PRWEB) July 18, 2016
World Patent Marketing, a vertically integrated manufacturer and engineer of patented products, announces the Snap Razor, a new and improved razor invention.
"The Shaving Razor Manufacturing market is worth $2 billion a year,"says Scott Cooper, CEO and Creative Director of World Patent Marketing. "Giants in this highly concentrated industry have consequently lost ground to imports and start-up providers of razors."
"Razors are hard to clean and because of this, the hair bits that get stuck in between the blades causes it to dull in a faster manner," says Jerry Shapiro, Director of Manufacturing and World Patent Marketing Inventions. "With Snap Razor, razor blades will be kept sharper and more efficient longer."
The Snap Razor features a new and improved take on the regular razor. Made with quality and safe materials, this invention comprises of a blade holder which accommodates at least one blade, a front face which receives the blade, and the rear face, which contains the pull tab in the design. In addition to this, it has a handle bar for easy and safe grip. To use the Snap Razor, the user needs to pull on the tab. When it is released, the pull tab will snap back into its original position, and this motion aids in removing or ejecting hair and other shaving debris. And because of this, it provides a unique razor which requires less effort to clean.
"I am certain that the Snap Razor will be a great hit with anyone who uses it," says inventor Steven S. "It is different from any regular razor out in the market today because it has a special feature which cleans itself up once it is no longer in use. With the Snap Razor, you are able to clean razors without the need to waste a great deal of water cleaning it every single day. Good value for money and helping the environment at the same time.... Who does not want that?"
Ned Sanders, a copywriter for a local publishing house from New York, has this to say about the Snap Razor: "I shave everyday because I prefer the clean-shaven look. The downside is that I have to constantly make an extra effort to clean my razors to keep it in tip top shape. Thanks to the Snap Razor, I save on time because it cleans itself out after I use it."
The Snap Razor is perfect for people who want a more efficient razor.
ABOUT WORLD PATENT MARKETING
World Patent Marketing is an innovation incubator and manufacturer of patented products for inventors and entrepreneurs. The company is broken into eight operating divisions: Research, Patents, Prototyping, Manufacturing, Retail, Web & Apps, Social Media and Capital Ventures.
As a leader in patent invention services, World Patent Marketing is by your side every step of the way, utilizing our capital and experience to protect, prepare, and manufacture your new product idea and get it out to the market. Get a patent with World Patent Marketing and the company will send representatives to trade shows every month in order to further advocate for its clients. It is just part of the world patent marketing cost of doing business.
World Patent Marketing Reviews enjoy an A+ rating with the Better Business Bureau and five star ratings from consumer review sites including: Consumer Affairs, Google, Trustpilot, Customer Lobby, Reseller Ratings, Yelp and My3Cents.
World Patent Marketing is also a proud member of the National Association of Manufacturers, Duns and Bradstreet, the US Chamber of Commerce, the South Florida Chamber of Commerce, the Greater Miami Chamber of Commerce, Association for Manufacturing Excellence, and the New York Inventor Exchange.
Like the World Patent Marketing facebook page, and add us on Twitter and YouTube. You may also contact us at (888) 926-8174.