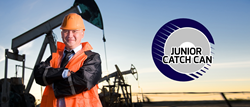 Miami, FL (PRWEB) July 18, 2016
World Patent Marketing, a vertically integrated manufacturer and engineer of patented products, announces the Junior Catch Can, an oil mining invention that prevents items from falling into the bottom hole assembly.
"The Oil Drilling & Gas Extraction market is worth $203 billion,"says Scott Cooper, CEO and Creative Director of World Patent Marketing. "In the coming years, improving technology is anticipated to assist operators in meeting environmental concerns."
"The oil mining industry is a big money maker under tight financial resources and any amount they can save gets back to the consumers," says Jerry Shapiro, Director of Manufacturing and World Patent Marketing Inventions. Junior Catch Can is an oil mining invention aimed at drilling personnel both on land and at sea.
Junior Catch Can helps in making sure that items do not fall into the drilling rig, and end up in the bottom hole assembly. When this happens, the drilling has to stop otherwise the drilling equipment can get damaged. In addition, the downtime can add thousands of dollars in production costs. This invention is attached to the top of the drilling rig assembly and catches any item which might fall into it. It is easily assembled around the drilling assembly and items that end up there can be picked up at any time.
"When making the bottom hole assembly, taking out the UBH hole bolts or any of the tools used, can be accidentally dropped into the open hole," says inventor Juan A. "This can cause a bit of damage and cost a lot of money and rig down time."
Jay Smith, an oilman from Oklahoma, has this to say about the Junior Catch Can: "This invention can save us a lot of money during drilling. Damaged drills is not a joke and dropping anything into the BHA can be expensive."
The Junior Catch Can is an oil mining invention that saves you from unnecessary rig down time or damaged drills!
ABOUT WORLD PATENT MARKETING
World Patent Marketing is an innovation incubator and manufacturer of patented products for inventors and entrepreneurs. The company is broken into eight operating divisions: Research, Patents, Prototyping, Manufacturing, Retail, Web & Apps, Social Media and Capital Ventures.
As a leader in patent invention services, World Patent Marketing is by your side every step of the way, utilizing our capital and experience to protect, prepare, and manufacture your new product idea and get it out to the market. Get a patent with World Patent Marketing and the company will send representatives to trade shows every month in order to further advocate for its clients. It is just part of the world patent marketing cost of doing business.
World Patent Marketing Reviews enjoy an A+ rating with the Better Business Bureau and five star ratings from consumer review sites including: Consumer Affairs, Google, Trustpilot, Customer Lobby, Reseller Ratings, Yelp and My3Cents.
World Patent Marketing is also a proud member of the National Association of Manufacturers, Duns and Bradstreet, the US Chamber of Commerce, the South Florida Chamber of Commerce, the Greater Miami Chamber of Commerce, Association for Manufacturing Excellence, and the New York Inventor Exchange.
Like the World Patent Marketing facebook page, and add us on Twitter and YouTube. You may also contact us at (888) 926-8174.