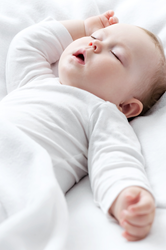 "The global baby care market is expected to increase its total sales to 66.8 billion U.S. dollars by 2017." said Scott J. Cooper, CEO & Creative Director of World Patent Marketing
New York, New York (PRWEB) April 22, 2015
World Patent Marketing, a vertically integrated manufacturer and distributor of patented products announces the Baby Snuggly, a baby invention that promises to be a relief against the possibility of Sudden Infant Death Syndrome and provides restful sleep for babies.
"The global baby care market is expected to increase its total sales to 66.8 billion U.S. dollars by 2017." said Scott J. Cooper, CEO & Creative Director of World Patent Marketing, "The demographics point in the other direction but parents want the best available products for their baby and they disregard the cost of certain products."
"SIDS is the leading cause of death among infants 1 month to 1 year old and claims the lives of about 2,500 each year in the United States alone." says Cattya Bella, Director of Product Development of World Patent Marketing. "Losing a child is a tragic event for any parent or caregiver, we believe innovations like this will provide the insight we need to help reduce the risk."
For a lot of parents, concerns about their sleeping babies range from the irregular sleeping hours and habits as well as crib death (or SIDS). Parents usually have a hard time adjusting to their baby's sleep patterns. In Detroit, "Baby Sleep All Night" is a sleep consulting firm for babies and parents. The firm is an expert helping new parents put their baby to sleep and the results have been very encouraging.
Experts recommend that healthy infants be placed on their backs for sleep, as this is the safest position for an infant to sleep. The Baby Snuggly helps babies with their complex sleeping patterns, as well as prevents SIDS and Moro reflex. When babies feel like they are falling, they are most likely to cry, wake up and have subsequent loss of sleep. The Baby Snuggly wraps the baby in a safe cocoon-like sleeping environment while keeping the baby in a prone sleeping position.
"This is a great help for parents with infants," says Louise M., the inventor of Baby Snuggly. "This baby invention is like no other. It is simple to use and very comfortable."
Nina Mancini., a mother and blogger from Hartford, CT, agrees that "this is a simple invention that presents an elegant solution for a lot of sleeping problems."
The Baby Snuggly is an invention that takes into account the safety and well-being of the baby. At the same time, it gives parents peace of mind knowing that their child is safe and sleeping soundly.
About World Patent Marketing
World Patent Marketing is a vertically integrated manufacturer and distributor of patented products. The company offers manufacturing, distribution, patent prosecution, IP valuation, licensing, trading, investment and other services. The company offers these products to independent inventors, law firms and venture capital-backed companies. The company is well known for evaluating the commercial potential of utility and other patents in the United States and around the world. The company directly engages in the business of retail, distribution and the retail sale of products.
World Patent Marketing Achievements
World Patent Marketing is the only patent services company in history to be awarded a five star review rating from Consumer Affairs, Google, Trustpilot, Shopper Approved, Customer Lobby and ResellerRatings.com. World Patent Marketing has received accredited status and is an A Rated Member of the Better Business Bureau. World Patent Marketing is also a proud member of Dun and Bradstreet, the US Chamber of Commerce, the Association for Manufacturing Excellence and the International Licensing Industry Merchandisers' Association (LIMA). World Patent Marketing Miami is also a member of the South Florida Chamber of Commerce, the Greater Miami Chamber of Commerce, and the Miami Beach Chamber of Commerce.
The Huffington Post reported on April 10, 2015, "Scott Cooper of World Patent Marketing says that promoting a patent requires a lot more than just a social media presence: "If you want to successfully market your idea, you have to live and breathe your invention. It basically needs to become a part of you. You should market your idea aggressively, pursuing every valuable opportunity that comes your way. In fact, promoting your invention is just as important as the actual inventing process."
World Patent Marketing Miami, FL
World Patent Marketing Miami Beach, FL
Submit Your Idea to World Patent Marketing