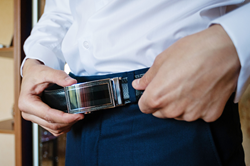 Miami, FL (PRWEB) March 03, 2017
World Patent Marketing, a vertically integrated manufacturer and engineer of patented products, introduces the Belt Charger, an electronic invention that allows people to charge their mobile devices using only their belt.
"The electronics industry is worth $228 billion," says Scott Cooper, CEO and Creative Director of World Patent Marketing. "This year will mark a slow but steady expansion of the market with certain technologies not being as successful as expected but others remaining steadily profitable."
"Mobile devices are used so much and so often that it's very common for people to find themselves with no power," says Jerry Shapiro, Senior Director of World Patent Marketing. "This electronic invention will make sure that people always have charger handy."
The Belt Charger is an electronic invention that gives people a new way to charge their phones. Many people rely on mobile devices for their jobs and everyday lives and it can be a huge inconvenience when they run out of power. Something that most people have, especially in a professional setting, is a belt. This invention is a new type of belt that functions as a portable battery pack. It has a USB port on the bottom lip of the belt that allows the user to plug a mobile device into. The device can then be charged at any time using the belt. This eliminates the need to carry bulky battery packs or look for an outlet. The user will always remember their belt so they will always have a charger handy. The Belt Charger will make life much more convenient for anyone who uses mobile devices.
"Give your belt a second purpose and use it to charge your portable devices," says inventor Peter P.
The Belt Charger is an electronic invention that gives a new purpose to something people wear every day. This charger can be used to power mobile devices and is conveniently located in the user's belt.
ABOUT WORLD PATENT MARKETING
World Patent Marketing is always looking for new invention ideas. The company provides invention services and is one of the only invention companies that engineers and manufactures its own products. The company is broken into six operating divisions:
Patent Intelligence and Analytics * Prototypes and Manufacturing * Distribution and Retail * Digital Marketing and Social Media * Direct Response TV and Internet Video Production * Patent Licensing & Investments
As a global leader in the invention services industry, World Patent Marketing is by your side every step of the way, utilizing its capital and experience to guide the invention process towards a successful product launch so you can be one of the next World Patent Marketing Success Stories.
World Patent Marketing Reviews enjoy an A+ rating with the Better Business Bureau (World Patent Marketing BBB) and has earned five-star ratings from Google and consumer review sites such as Consumer Affairs, Trustpilot, Shopper Approved, Customer Lobby, ResellerRatings, My3Cents and World Patent Marketing Glassdoor.
The CEO of World Patent Marketing, Scott Cooper, is also a Director of The Cooper Idea Foundation is the founder of the New York Inventors Exchange and has also been a proud member of the National Association of Manufacturers, Duns and Bradstreet, the US Chamber of Commerce, the South Florida Chamber of Commerce, the Miami Beach Chamber of Commerce, the Greater Miami Chamber of Commerce, the Association for Manufacturing Excellence and the Society of Plastics Engineers.
Those who are wondering how hard is it to get a patent or how much does it cost to patent an idea, should contact the invention marketing experts.
World Patent Marketing credits its invention success to it's powerful and influential advisory board and its controversial "shock content" approach to invention marketing.
To submit invention ideas, contact World Patent Marketing at (888) 926-8174. Corporate headquarters located at 1680 Meridian Avenue, Miami Beach, Florida 33139.