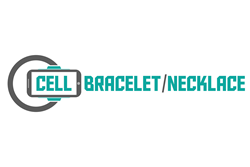 "Rapid technological change will make people take care of their mobile devices. But, should accidents occur, consumers would rather replace rather than repair their cell phones, says Scott Cooper, CEO and Creative Director of World Patent Marketing
New York, NY (PRWEB) December 04, 2015
World Patent Marketing, a vertically integrated manufacturer and engineer of patented products, announces the Cell Bracelet/Necklace, a mobile accessory invention that aids in keeping mobile phones safe and secured.
"The Cell Phone Repair industry makes $4 billion annually," says Scott Cooper, CEO and Creative Director of World Patent Marketing and Desa Industries. "Expensive but fragile smart phones has supported the industry. Rapid technological change will make people take care of their mobile devices even more. But, should accidents occur, consumers would rather replace rather than repair their cell phones."
"Mobile phones, particularly smart phones, are considered essential gadgets that people can no longer live without," says Jerry Shapiro, Director of Manufacturing and World Patent Marketing Reviews. "From communicating with people to checking one's social media site, mobile phones connect us to the rest of the world. The Cell Bracelet / Necklace is a mobile accessory invention that allows us to keep these precious devices protected at all times and prevent losses."
The Cell Bracelet / Necklace is a mobile accessory invention designed to keep mobile phones protected at all times. More often than not, people are seen holding their phones without any protection against accidental drops and bumps. This invention protects mobile devices by keeping it attached to the person even when the grip is loosened. It also keeps the hands free to accomplish other things such as typing and eating. But what the Cell Bracelet / Necklace does best is preventing mobile phones from being accidentally left behind at a restaurant or other establishment.
"The Cell Bracelet / Necklace will help protect mobile phones no matter where a person is," says inventor Shirley H. "This mobile accessory invention is conveniently attached to the mobile device and instantly protects it against accidental drops and even prevents it from getting misplaced while outdoors."
Charlie Smith, a company Events Organizer from Seattle, WA, has this to say about the Cell Bracelet / Necklace: "Being constantly on the go talking to caterers or finalizing details with colleagues, my mobile phone is constantly attached to my hands. Because of this, I have had to have it repaired due to constant bumps and drops while out and about. With the Cell Bracelet / Necklace, I need not worry about damaging my phone, let alone losing it."
The Cell Bracelet / Necklace is a mobile accessory invention that helps people protect their mobile phones. By keeping it attached to a person, phones will no longer be misplaced or damaged due to accidental drops.
ABOUT WORLD PATENT MARKETING
World Patent Marketing is an innovation incubator, a manufacturer of patented products and a patent marketing company. The company is broken into eight operating divisions: Research, Patents, Prototyping, Manufacturing, Retail, Web & Apps, Social Media and Capital Ventures.
World Patent Marketing Miami is by your side every step of the way, utilizing our capital and experience to protect, prepare, and manufacture your new product idea and get it out to the market. Get a patent with World Patent Marketing and the company will send representatives to to trade shows every month in order to further advocate for its clients. It is just part of the world patent marketing cost of doing business.
WORLD PATENT MARKETING REVIEWS
World Patent Marketing success is demonstrated by its A+ rating with the Better Business Bureau and its five star ratings from consumer review sites including: Consumer Affairs, Google, Trustpilot, Customer Lobby, Reseller Ratings, Yelp and My3Cents.
World Patent Marketing is also a proud member of the National Association of Manufacturers, Duns and Bradstreet, the US Chamber of Commerce, the South Florida Chamber of Commerce, the Greater Miami Chamber of Commerce, Association for Manufacturing Excellence, and the New York Inventor Exchange. Visit the worldpatentmarketing.com website. Contact us at (888) 926-8174 (US Eastern Time) or email bill(at)worldpatentmarketing(dot)com.