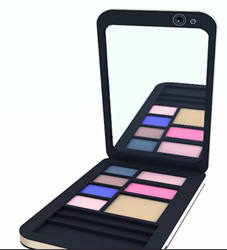 " The key to success is simple: give customers something new and exciting to keep them coming back," says Scott Cooper, CEO and Creative Director of World Patent Marketing and Desa Industries Inc
Miami, FL (PRWEB) December 04, 2015
World Patent Marketing, a vertically integrated manufacturer and engineer of patented products, announces the Cosmetic Camera, a cosmetic invention that acts as a compact powder and a camera.
"The Cosmetic & Beauty Products Manufacturing Industry is worth $50 billion," says Scott Cooper, CEO and Creative Director of World Patent Marketing and Desa Industries Inc. "Industry revenue has increased steadily in recent years due to continued innovation and introduction of new products in the market. The key to success is simple: give customers something new and exciting to keep them coming back."
"A photo is an image that lasts lifetimes," says Jerry Shapiro, Director of Manufacturing and World Patent Marketing Reviews. "People who smile in pictures want nothing but their best angled to be featured in an image. Make up is one of the many powerful tools that not only women, but also men use to make themselves more appealing. This is why the Cosmetic Camera is a must have for everyone as it makes putting on make up and getting selfies more fun."
This cosmetic invention has a two-way mirror and a compact spot for pressed powder. It not only evens out one's skin tone but can also serve as reflector which will let the user know if there is a need to retouch or put on more make up. This cosmetic invention also has a built-in camera with flash allowing the user to take beautiful shots any time and anywhere. It has a SD card where the user can save selfies.
"I believe that all women are beautiful and it is my pleasure to help you show the world how beautiful you are," says inventor James L. "Imagine you're getting ready for that big day, or a night out with your friends. What if you could apply your makeup and capture that perfect moment without looking for your phone using a high quality camera and flash made right into your company, built ergonomically just for you?"
Taylor Page, a beauty blogger from Columbus, OH, has this to say about the cosmetic invention: "The Cosmetic Camera produces nothing but glorious selfies. Why not? It has a compact pressed powder and a mirror that will allow me to retouch my makeup and then take a photo the next second. Truly, a must have for any girl!"
This cosmetic inventions is a combination of a camera and a compact mirror and powder helping people look more beautiful in pictures.
ABOUT WORLD PATENT MARKETING
World Patent Marketing is an innovation incubator, a manufacturer of patented products and a patent marketing company. The company is broken into eight operating divisions: Research, Patents, Prototyping, Manufacturing, Retail, Web & Apps, Social Media and Capital Ventures.
World Patent Marketing Miami is by your side every step of the way, utilizing our capital and experience to protect, prepare, and manufacture your new product idea and get it out to the market. Get a patent with World Patent Marketing and the company will send representatives to to trade shows every month in order to further advocate for its clients. It is just part of the world patent marketing cost of doing business.
WORLD PATENT MARKETING REVIEWS
World Patent Marketing success is demonstrated by its A+ rating with the Better Business Bureau and its five star ratings from consumer review sites including: Consumer Affairs, Google, Trustpilot, Customer Lobby, Reseller Ratings, Yelp and My3Cents.
World Patent Marketing is also a proud member of the National Association of Manufacturers, Duns and Bradstreet, the US Chamber of Commerce, the South Florida Chamber of Commerce, the Greater Miami Chamber of Commerce, Association for Manufacturing Excellence, and the New York Inventor Exchange. Visit the worldpatentmarketing.com website. Contact us at (888) 926-8174 (US Eastern Time) or email bill(at)worldpatentmarketing(dot)com.