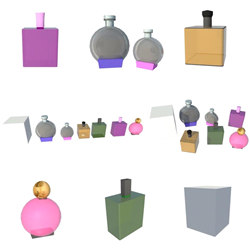 "The market looking for products that are unique and innovative. For the longest time, they have tolerated fragrance products that were mass-produced," says Scott Cooper, CEO and Creative Director of World Patent Marketing
Chicago, IL (PRWEB) November 24, 2015
World Patent Marketing, a vertically integrated manufacturer and engineer of patented products, announces Fragrance by Marcelle, a cosmetic invention which offers a combination of natural essential oils to create something fragrantly unique.
The Perfume & Fragrance Manufacturing Market in the US is worth $3 billion annually," says Scott Cooper, CEO and Creative Director of World Patent Marketing. "Market growth is projected at over 3% per year, with the market looking for products that are unique and innovative. For the longest time, they have tolerated fragrance products that were mass-produced and required a low level of human input. In the next few years, personalized and well thought of products will be patronized more."
"Fragrances have been used since time immemorial in representing an individual's personality and preferences," says Jerry Shapiro, Director of Manufacturing, "Certain smells also represent one's emotions and is therefore an essential tool in revealing our inner selves. Fragrance by Marcelle is a cosmetic invention which provides us with a new and distinct new fragrance which will appeal to everyone."
Fragrance by Marcelle is a cosmetic invention which has never before been formulated. It is a combination of a variety of natural essential oils which results in a unique and appealing new fragrance. While many of the perfumes and other scented products out in the market can cause allergic reactions, this product is highly safe on the skin and does not contain any harmful chemicals. What is unique about this scent formulation is that not only can it be used to make perfumes and colognes, it can also be utilized as a source of scent for soaps, lotions and more.
"Fragrance by Marcelle is something that will appeal to a wide group of consumers," says inventor Marcelle C. "This amazing cosmetic invention has a unique formulation of natural essential oils that results in something very pleasant to smell. From perfumes, lotions to bath soaps, it will provide a wide variety of products with an appealing scent that is safe on the skin."
Penelope Miller, a stylist and fashion blogger from San Francisco, CA, has this to say about Fragrance by Marcelle: "One of the most important things that make people seem more appealing is how they smell. Even with the most plain of outfits, a person can still have a strong presence if they smell absolutely amazing. Fragrance by Marcelle is an amazing new scent formulation that will help people express themselves and make them stand out."
Fragrance by Marcelle is a new cosmetic invention which will offer a pleasant and appealing new fragrance for a whole variety of products.
ABOUT WORLD PATENT MARKETING
World Patent Marketing is an innovation incubator, a manufacturer of patented products and a patent marketing company. The company is broken into eight operating divisions: Research, Patents, Prototyping, Manufacturing, Retail, Web & Apps, Social Media and Capital Ventures.
World Patent Marketing is by your side every step of the way, utilizing our capital and experience to protect, prepare, and manufacture your new product idea and get it out to the market. Get a patent with World Patent Marketing and the company will send representatives to to trade shows every month in order to further advocate for its clients. It is just part of the world patent marketing cost of doing business.
WORLD PATENT MARKETING REVIEWS
World Patent Marketing Complaints from clients are extremely rare which is demonstrated by its A+ rating with the Better Business Bureau and its five star ratings from consumer review sites including: Consumer Affairs, Google, Trustpilot, Customer Lobby, Reseller Ratings, Yelp and My3Cents.
World Patent Marketing is also a proud member of the National Association of Manufacturers, Duns and Bradstreet, the US Chamber of Commerce, the South Florida Chamber of Commerce, the Greater Miami Chamber of Commerce, Association for Manufacturing Excellence, and the New York Inventor Exchange. Visit the worldpatentmarketing.com website. Contact us at (888) 926-8174 (US Eastern Time) or email bill(at)worldpatentmarketing(dot)com.