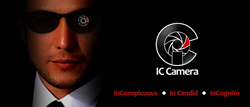 "The industry is changing rapidly as digital cameras and postproduction technologies allow consumers to take professional-quality images," says Scott Cooper, CEO and Creative Director of World Patent Marketing
New York, NY (PRWEB) November 25, 2015
World Patent Marketing, a vertically integrated manufacturer and engineer of patented products, announces the Incognito Camera, a technological invention designed to provide an inconspicuous way of taking videos and photos with a camera phone.
"The US Photography industry is worth $10 billion annually," says Scott Cooper, CEO and Creative Director of World Patent Marketing. "The industry is changing rapidly as digital cameras and post production technologies allow consumers to take professional-quality images. While consumers still rely on photographers to document special events and big occasions, the DIY approach is becoming more and more accepted."
"Taking pictures and videos with the use of a camera phone is part of every person's daily life these days," says Jerry Shapiro, Director of Manufacturing and World Patent Marketing Reviews. "Aside from taking selfies and memorable vacation photos, it can also be used to take image or video evidence of any questionable situation or criminal act. The Incognito Camera is a technological invention that allows users to take photos or videos without fear of being seen."
The Incognito Camera is a technological invention that allows people to take photos or videos with the use of their camera phones without being seen. It is designed to be in case form and will come in a variety of compatible sizes for any phone model or brand. In addition to this, it features a middle portion, a reflective design and tinted plastic which allow this device to provide users with reflective images of their desired subject or subjects. By doing so, this enables a person to take a photograph or video recording without letting anyone else know about it.
"The IC Camera is something that every person with a camera phone will appreciate using" says inventor Daniel W. "Whether you're a detective taking an inconspicuous photo, a parent taking a candid shot of your kid, or someone who enjoys walking and texting while seeing what's ahead of you, you'll love the IC camera."
Jericho Brown, a blogger and photography enthusiast from Brooklyn, NY, has this to say about the Incognito Camera: "No matter where a person is or no matter what time of the day, things can happen. Whether it is vandals painting homes to thieves stealing a car, it is important to be able to help in any way to catch criminals in the act, even if it is only be means of acquiring photo or video evidence. With the Incognito Camera, this is now all possible."
The Incognito Camera is a technological invention that makes any camera phone a security device.
ABOUT WORLD PATENT MARKETING
World Patent Marketing is an innovation incubator, a manufacturer of patented products and a patent marketing company. The company is broken into eight operating divisions: Research, Patents, Prototyping, Manufacturing, Retail, Web & Apps, Social Media and Capital Ventures.
World Patent Marketing is by your side every step of the way, utilizing our capital and experience to protect, prepare, and manufacture your new product idea and get it out to the market. Get a patent with World Patent Marketing and the company will send representatives to to trade shows every month in order to further advocate for its clients. It is just part of the world patent marketing cost of doing business.
WORLD PATENT MARKETING REVIEWS
World Patent Marketing Complaints from clients are extremely rare which is demonstrated by its A+ rating with the Better Business Bureau and its five star ratings from consumer review sites including: Consumer Affairs, Google, Trustpilot, Customer Lobby, Reseller Ratings, Yelp and My3Cents.
World Patent Marketing is also a proud member of the National Association of Manufacturers, Duns and Bradstreet, the US Chamber of Commerce, the South Florida Chamber of Commerce, the Greater Miami Chamber of Commerce, Association for Manufacturing Excellence, and the New York Inventor Exchange. Visit the worldpatentmarketing.com website. Contact us at (888) 926-8174 (US Eastern Time) or email bill(at)worldpatentmarketing(dot)com.