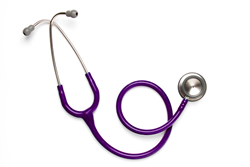 "The Health and Medical Insurance industry is worth $696 million,says Scott Cooper, CEO and Creative Director of World Patent Marketing."Consistent increases in healthcare expenditure and medical cost inflation, as well as a sharp decline
Miami, FL (PRWEB) April 06, 2016
World Patent Marketing, a vertically integrated manufacturer and engineer of patented products, announces the Earless Stethoscope, a medical invention specially designed and created to provide a more efficient and easy to use version of the traditional stethoscope.
"The Health and Medical Insurance industry is worth $696 million,says Scott Cooper, CEO and Creative Director of World Patent Marketing."Consistent increases in healthcare expenditure and medical cost inflation, as well as a sharp decline in the uninsured rate, have driven industry growth in recent years."
"Medical practitioners need to have a good set of ears and absolute concentration when using a traditional stethoscope on a patient," says Jerry Shapiro, Director of Manufacturing and World Patent Marketing Inventions. "This a medical invention called the Earless Stethoscope allows them to record bodily sounds and make it more audible which will help determine which medical steps to follow next."
The Earless Stethoscope is a medical invention designed to provide an improved physiological monitoring device for listening and detecting bodily sound signals. Made of high quality material, it comprises of a specially designed device with at least one amplifier to amplify bodily sounds, an input device which is used to convert the acquired sound from the body into a digitized format, multiple communication interfaces which is connected to a transmitter that sends the digitized sounds to a receiver and a health-monitoring portion to monitor and determine the health condition of the user. The transmitter will be in a form of a mobile phone or tablet which makes the digitized sounds easy and convenient to share.
"The Earless Stethoscope is a revolutionary device which will improve how medical practitioners initially diagnose patients," says inventor Shiv S. "This a medical invention is an updated and ultimately more efficient version of the tradition in-ear stethoscope because it is able to precisely detect bodily sounds and digitize it to make it more audible. And with better sounding quality, medical professionals will be able to determine which medical step to take next more efficiently."
Ken Patterson, an ER nurse from Los Angeles, CA, has this to say about the Earless Stethoscope: "Being assigned to the ER requires a person to accomplish tasks in a quicker pace without sacrificing efficiency. With the Earless Stethoscope, I am able to check on patients in a significantly quicker manner."
The Earless Stethoscope is a medical invention which will help everyone in the medical profession in providing better diagnosis and care to patients.
ABOUT WORLD PATENT MARKETING
World Patent Marketing is an innovation incubator and manufacturer of patented products for inventors and entrepreneurs. The company is broken into eight operating divisions: Research, Patents, Prototyping, Manufacturing, Retail, Web & Apps, Social Media and Capital Ventures.
As a leader in patent invention services, World Patent Marketing is by your side every step of the way, utilizing our capital and experience to protect, prepare, and manufacture your new product idea and get it out to the market. Get a patent with World Patent Marketing and the company will send representatives to trade shows every month in order to further advocate for its clients. It is just part of the world patent marketing cost of doing business.
World Patent Marketing Reviews enjoy an A+ rating with the Better Business Bureau and five star ratings from consumer review sites including: Consumer Affairs, Google, Trustpilot, Customer Lobby, Reseller Ratings, Yelp and My3Cents.
World Patent Marketing is also a proud member of the National Association of Manufacturers, Duns and Bradstreet, the US Chamber of Commerce, the South Florida Chamber of Commerce, the Greater Miami Chamber of Commerce, Association for Manufacturing Excellence, and the New York Inventor Exchange.
Visit the worldpatentmarketing.com website and find out how to patent an invention. Contact us at (888) 926-8174.