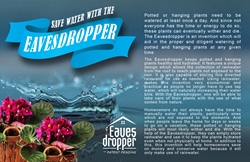 "The Nursery and Gardens industry is worth $40 billion," says Scott Cooper, CEO and Creative Director of World Patent Marketing. "Rising demand for garden products will be captured by external competitors; but the industry will grow
Miami, FL (PRWEB) April 21, 2016
World Patent Marketing, a vertically integrated manufacturer and engineer of patented products, announces the Eavesdropper, a solution to keeping potted and hanging plants healthy and hydrated.
"The Nursery and Gardens industry is worth $40 billion," says Scott Cooper, CEO and Creative Director of World Patent Marketing. "Rising demand for garden products will be captured by external competitors; but the industry will grow because of renewed enthusiasm in gardening."
"Plants of all types and sizes can now be found in almost every home these days," says Jerry Shapiro, Director of Manufacturing and World Patent Marketing Inventions. "Although they add aesthetics and neutral tones to any space, it would take a whole lot of effort to take care of. The Eavesdropper is a gardening invention which allows people to take good care of their plants and lengthen their life span without too much effort."
The Eavesdropper provides ample hydration to potted and hanging plants. Plants require continuous care to achieve vigor and longevity. . The unique design of this invention creates a way to collect rainwater from the roof and direct it to reach the plants that need to be watered. In addition to providing water, it can store said rainwater in a container for later use.For busy people short on time and energy, installing the Eavesdropper will be an efficient way to provide natural rainwater to nourish their plants. 
"The Eavesdropper will significantly improve how people take care of their plants at home," says inventor Michelle L. "This landscaping invention allows to make use of rainwater to keep these plants hydrated even when under a covered area. People no longer need to water plants manually since it does the job for you even when you're not physically home.."
Fran Hudson, a gardening enthusiast from Portland, OR, has this to say about the Eavesdropper: "One of the most frustrating things about having plants in a home is that they tend to wilt when the whole family goes on extended vacation trips. The Eavesdropper is inexpensive, easier to install and utilize than irrigation systems."
The Eavesdropper is a gardening invention that will aid in providing proper care with more adequate and diligent watering of potted and hanging plants.
ABOUT WORLD PATENT MARKETING
World Patent Marketing is an innovation incubator and manufacturer of patented products for inventors and entrepreneurs. The company is broken into eight operating divisions: Research, Patents, Prototyping, Manufacturing, Retail, Web & Apps, Social Media and Capital Ventures.
As a leader in patent invention services, World Patent Marketing is by your side every step of the way, utilizing our capital and experience to protect, prepare, and manufacture your new product idea and get it out to the market. Get a patent with World Patent Marketing and the company will send representatives to trade shows every month in order to further advocate for its clients. It is just part of the world patent marketing cost of doing business.
World Patent Marketing Reviews enjoy an A+ rating with the Better Business Bureau and five star ratings from consumer review sites including: Consumer Affairs, Google, Trustpilot, Customer Lobby, Reseller Ratings, Yelp and My3Cents.
World Patent Marketing is also a proud member of the National Association of Manufacturers, Duns and Bradstreet, the US Chamber of Commerce, the South Florida Chamber of Commerce, the Greater Miami Chamber of Commerce, Association for Manufacturing Excellence, and the New York Inventor Exchange.
Visit the worldpatentmarketing.com website and find out how to patent an invention. Contact us at (888) 926-8174.