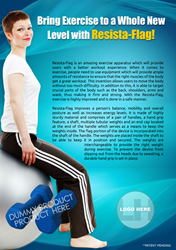 "The Gym, Health and Fitness Clubs industry is worth $27 billion," says Scott Cooper, CEO and Creative Director of World Patent Marketing. "The industry has benefited from recent marketing campaigns aimed at fighting obesity...
Miami, FL (PRWEB) April 18, 2016
World Patent Marketing, a vertically integrated manufacturer and engineer of patented products, announces the Resista-Flag, an exercise invention designed to provide an efficient way of working out while improving one's balance, endurance and overall posture.
"Getting enough amounts of exercise is important to keep the body strong and healthy," says Jerry Shapiro, Director of Manufacturing and World Patent Marketing Inventions." However, not all exercises are able to improve one's posture and balance. The Resista-Flag is an exercise invention which can provide the correct and highly efficient way of exercising with added benefits."
The Resista-Flag is an exercise invention specially created to provide a convenient and efficient way of working out. It is designed with a pair of handles with sturdy hand grips to prevent it from slipping out of the hands of the user. The handles serve as the container wherein the weights are kept securely and is kept in place by an end cap. What is great about this invention is that the weights can be interchangeable to accommodate the needs of the user. To use this invention, one simply waves it around in a circular motion, and in no time, a user's balance, mobility and ultimately his or her posture will greatly improve.
"Resista-flag is the ultimate new wave fitness experience that allows everyone to move with fluidity,ease and confidence at any age," says inventor Patricia W. "This fun and innovative tool is part of an all encompassing program that combines the resistance of a free flowing flag with an optional weight to energize,heal and revitalize the entire body. A variety of easy to follow programs encourage faster results giving the body a leaner and toned look,improved posture,balance and joint mobility in ways not possible with conventional programs. The versatility of Resista-flag addresses the health and fitness needs of all ages for a variety of reasons giving it universal appeal."
Jean Harrison, a gym instructor at a local center in Massachusetts, has this to say about the Resista-Flag: "It is important to be equipped with the right tools to get a great workout. With the use of the Resista-Flag, I am able to target my shoulder, waist, back and other parts of the body which can be neglected when working out."
The Resista-Flag is an exercise invention which will provide all sorts of benefits during workout sessions.
ABOUT WORLD PATENT MARKETING
World Patent Marketing is an innovation incubator and manufacturer of patented products for inventors and entrepreneurs. The company is broken into eight operating divisions: Research, Patents, Prototyping, Manufacturing, Retail, Web & Apps, Social Media and Capital Ventures.
As a leader in patent invention services, World Patent Marketing is by your side every step of the way, utilizing our capital and experience to protect, prepare, and manufacture your new product idea and get it out to the market. Get a patent with World Patent Marketing and the company will send representatives to trade shows every month in order to further advocate for its clients. It is just part of the world patent marketing cost of doing business.
World Patent Marketing Reviews enjoy an A+ rating with the Better Business Bureau and five star ratings from consumer review sites including: Consumer Affairs, Google, Trustpilot, Customer Lobby, Reseller Ratings, Yelp and My3Cents.
World Patent Marketing is also a proud member of the National Association of Manufacturers, Duns and Bradstreet, the US Chamber of Commerce, the South Florida Chamber of Commerce, the Greater Miami Chamber of Commerce, Association for Manufacturing Excellence, and the New York Inventor Exchange.
Visit the worldpatentmarketing.com website and find out how to patent an invention. Contact us at (888) 926-8174.