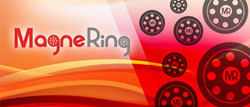 "The Bicycle Manufacturing industry is worth $926 million," says Scott Cooper, CEO and Creative Director of World Patent Marketing."By 2020, the industry is expected to double time on creating high-quality products that consumers are willing to pay
Los Angeles, CA (PRWEB) March 31, 2016
World Patent Marketing, a vertically integrated manufacturer and engineer of patented products, announces the MagnePull, a cycling invention that completely changes how people ride bikes.
"The Bicycle Manufacturing industry is worth $926 million," says Scott Cooper, CEO and Creative Director of World Patent Marketing."By 2020, the industry is expected to double time on creating high-quality products that consumers are willing to pay a premium for."
"Bicycles are used for multiple purposes ranging from exercise machines to hobbies to primary modes of transportation," says Jerry Shapiro, Director of Manufacturing and World Patent Marketing Inventions. "That is why it isn't surprising that the bicycle industry is continuously innovating and improving the biking experience. One such cycling invention is the MagnePull which completely improves on bicycle shoes with cleats."
Traditionally, cyclists secure their feet to the pedal either through shoes fitted with cleats or with the use of straps. However, the current design is very difficult to attach and detach. The MagnePull is a cycling invention that improves on the current design and uses a magnetic attachment, a stabilizing ring, and a twist release to lock the feet to the pedal. Since it uses magnets, they are a lot easier to attach and remove while still providing optimal support and safety.
"I have been attracted to magnets since early childhood. I am also a big fan of clipless/clip-in cycling," says inventor Clifford C. "The MagneRing magnetic attachment technology, used by the MagnePull Cycle Pedal and Cleat System, is a great combination of those two interests. Aside from great performance and Safety, it has a tremendous "Cool" factor!"
Bill Gann, a cyclist and blogger from Damascus, VA, has this to say about the MagnePull: "Being comfortable while cycling isn't just about getting rid of any discomfort. Being comfortable while pedalling the bike means better transfer of power and this allows the cyclist to ride faster and longer. Through correct posture and proper body mechanics, more power is transferred into each step. The MagnePull is a cycling invention that can adapt to any cyclist's skill level which can greatly improve their performance."
The MagnePull is a cycling invention which allows cyclists of any level to ride the bike more efficiently, easily, and safely.
ABOUT WORLD PATENT MARKETING
World Patent Marketing is an innovation incubator and manufacturer of patented products for inventors and entrepreneurs. The company is broken into eight operating divisions: Research, Patents, Prototyping, Manufacturing, Retail, Web & Apps, Social Media and Capital Ventures.
As a leader in patent invention services, World Patent Marketing is by your side every step of the way, utilizing our capital and experience to protect, prepare, and manufacture your new product idea and get it out to the market. Get a patent with World Patent Marketing and the company will send representatives to trade shows every month in order to further advocate for its clients. It is just part of the world patent marketing cost of doing business.
World Patent Marketing Reviews enjoy an A+ rating with the Better Business Bureau and five star ratings from consumer review sites including: Consumer Affairs, Google, Trustpilot, Customer Lobby, Reseller Ratings, Yelp and My3Cents.
World Patent Marketing is also a proud member of the National Association of Manufacturers, Duns and Bradstreet, the US Chamber of Commerce, the South Florida Chamber of Commerce, the Greater Miami Chamber of Commerce, Association for Manufacturing Excellence, and the New York Inventor Exchange.
Visit the worldpatentmarketing.com website and find out how to patent an invention. Contact us at (888) 926-8174.