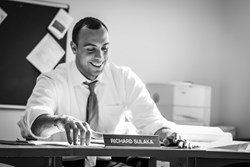 "It's an honor to receive this award from World Patent Marketing. The story of Warren is the story of America; we got knocked down, but we will keep on fighting.
New York, New York (PRWEB) February 04, 2015
World Patent Marketing, the world's fastest growing patent, idea protection and inventor services company, is pleased to announce that is has expanded its Board of Advisors to include Richard Sulaka, Macomb County's Deputy Public Works Commissioner. The company has also recognized Mr. Sulaka for his public service and his commitment to promoting entrepreneurship and innovation with the World Patent Marketing American Dream Award. Richard Sulaka, Jr. joins a distinguished board that includes Iowa Former US Attorney and Republican Candidate for the United States Senate, Matthew G. Whitaker.
"Richard Sulaka is a rising political star from the great comeback city of Detroit, Michigan," said Scott Cooper, Managing Director of World Patent Marketing, "He represents a work ethic and professional pride deeply rooted in meeting the exacting needs of the automotive and defense industries. It is my honor to present him with the American Dream Award and to welcome him to our Board of Advisors."
"It's an honor to receive this award from World Patent Marketing, but it's an even greater honor to represent my friends and neighbors in Warren," said Richard Sulaka, Jr., Deputy Commissioner of Macomb County. "If the story of Detroit is the comeback story of the quintessential postindustrial city, then in Warren, we're writing the comeback story of the American middle class. The story of Warren is the story of America; we got knocked down, but we will keep on fighting. Inventors and innovators are this country's backbone and with companies like World Patent Marketing promoting the American dream, I have full faith that this country will remain the beacon of entrepreneurial spirit. The spirit of American ingenuity and the belief in hard work beats in the heart of every Warren resident, and I'm proud to accept this award on their behalf."
ABOUT RICHARD SULAKA, JR.
Richard Sulaka, Jr .represents the new American dream. In a world where professional athletes dominate their industry in their mid-to-late twenties, Richard has emerged as an all-pro in a profession that normally requires at least two decades of experience before reaching the pinnacle of success. Less than six months after being sworn-in to practice law, Richard had established himself as one of a handful of experts in the Detroit bankruptcy mediation for the creation of a regional water and sewerage authority.
In the months that followed, local leaders credited his analyses as influential in their decisions to support an agreement affecting over 4 million Michigan residents. Both Michigan Governor Rick Snyder and Federal District Court Judge Sean F. Cox personally commended his contributions to the regional efforts. Since 2008, Richard has owned and managed a consultant and investment firm, and he currently serves as Macomb County's Deputy Public Works Commissioner , but his commitment to public service runs deep in his blood.
His father Richard Sr .served as a Warren City Councilman and the Warren City Clerk for a total of 16 years before campaigning for mayor in 2007. Sadly, the elder Sulaka came up short in his bid to be mayor of the third largest city in Michigan, suffering from heart complications less than two months into the campaign that left him with a permanent disability and unable to actively campaign.
In 2012, the City of Warren recognized him as one of their Volunteers of the Year, and he has twice received nominations for Mentor of the Year from the award-winning Winning Futures program. Richard also serves on the Board of Director s of the Founders Junior Council of the Detroit Institute of Arts. He is a lifetime Warren resident and a third-generation Warren homeowner. He is a graduate of Paul K. Cousino Senior High School, Wayne State University with a Bachelor of Arts, and Western Michigan University Cooley Law School with a Juris Doctor.
Richard is a fiscal conservative, who believes that a strong American manufacturing base is critical to American prosperity. He is an American-born Christian of Middle Eastern and European descent, with both his paternal and maternal grandfather's having supported their families through auto-industry related careers.
ABOUT WORLD PATENT MARKETING
World Patent Marketing is the world's fastest growing Patent, Idea Protection and Inventor Services Company. World Patent Marketing specializes in offering high-quality and affordable patent services to inventors. The company and its employees are well known in the industry for knowledge and expertise in patent research, patent filings, patent searches, invention studies, utility patents, design patents, PCTs, European Union Patents, manufacturing, licensing and more. World Patent Marketing employs and contracts with over 350 people across four continents.
WORLD PATENT MARKETING ACHIEVEMENTS
World Patent Marketing is the only patent assistance company in history to be awarded a five star review rating from Consumer Affairs, Google, Trustpilot, Shopper Approved, Customer Lobby and ResellerRatings.com. World Patent Marketing has received accredited status and is an A Rated Member of the Better Business Bureau. World Patent Marketing is also a proud member of Dun and Bradstreet, the US Chamber of Commerce, the Association for Manufacturing Excellence, the International Licensing Industry Merchandisers' Association (LIMA), the South Florida Chamber of Commerce, the Greater Miami Chamber of Commerce and the Miami Beach Chamber of Commerce.