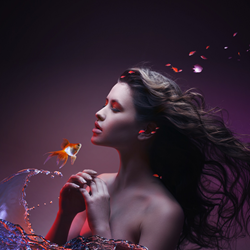 'Fashion has to do with ideas,' said Nadia Amarillo, business development manager of World Patent Marketing. 'It's a new era in fashion. It is a time of innovation and empowerment. Fashion and invention are the very fabric of life.'
Las Vegas, Nevada (PRWEB) February 22, 2015
World Patent Marketing sent its company's trade show division to Las Vegas this week in full force to rub elbows with the elite of the fashion industry. MAGIC, the world's largest fashion marketplace, held its annual event where the retail industry convenes to spot and shop the latest trends in men's, women's, juniors' and children's apparel, footwear, and accessories.
"Fashion has to do with ideas," said Nadia Amarillo, business development manager of World Patent Marketing. "It's a new era in fashion. It is a time of innovation and empowerment. Fashion and Invention are the very fabric of life."
World Patent Marketing Trade Show Division Delivers
The semiannual Sourcing at MAGIC show opened a day early on Feb. 16. Nearly 40 countries represented at the gargantuan show showed their expertise in manufacturing everything from athletic wear to zippers. Chinese exhibitors made up more than half of the show. This season, there was a focus on Egypt and its 25 qualifying industrial zones, where apparel made there gets duty-free entry into the United States under a trade preference program. The World Patent Marketing Trade Show Division was right in the thick of things, showing it had what it takes to get premium visibility on the floor for its fashion entrepreneur clients.
World Patent Marketing Trade Show Division Busy at Mandalay Bay
At Project at the Mandalay Bay Convention Center, Christopher Yoo, wholesale director of the Los Angeles–based Andrew Christian fashion underwear brand, said that his booth had 50 appointments. "Every hour was double booked," he said. Mario Pasillas, West Coast sales for 7 Diamonds, said he saw "an upswing in the way people are spending." The 7 Diamonds booth was in the same place it's been for the last three years, Pasillas said. "It's tried and true," he said. "People know where to find us. It's great." The World Patent Marketing Trade Show Division was right in the middle of the action. In all, 83,000 attendees were in Las Vegas for the show. MAGIC officials said Las Vegas is a huge draw for industry people from all around the world. "We all think, 'Let's go to Paris or Florence, and how romantic that is.' Well, they love Las Vegas, and let's face it, who doesn't? There's something for everyone," said Leslie Gallin, MAGIC president of footwear. Gallin said that in addition to the Las Vegas Strip - including the shows, food and nightlife - there is something else convention goers love about Sin City. "A lot of our customers are coming from the East Coast, so they're really happy to get out of Dodge, as they say, in February," Gallin said. Companies such as World Patent Marketing bring their trade show division to hobnob with fashion greats such as Gallin and get to know the industry leaders firsthand.
About World Patent Marketing
World Patent Marketing is the world's fastest growing patent and inventor services company. World Patent Marketing specializes in offering high-quality and affordable patent services to inventors. The company and its employees are well known in the industry for knowledge and expertise in patent research, patent filings, patent searches, invention studies, utility patents, design patents, PCTs, European Union Patents, manufacturing, licensing and more. World Patent Marketing is also very well known as an outspoken critic of patent troll scams; World Patent Marketing declares war on patent troll scams as U.S. Congress reconsiders the Anti-Patent Troll Law. World Patent Marketing employs and contracts with over 350 people across four continents.
World Patent Marketing Achievements
World Patent Marketing is the only patent assistance company in history to be awarded a five star review rating from Consumer Affairs, Google, Trustpilot, Shopper Approved, Customer Lobby, Reseller Ratings and My3Cents.com. World Patent Marketing has received accredited status and is an A Rated Member of the Better Business Bureau. World Patent Marketing is also a proud member of Dun and Bradstreet, the US Chamber of Commerce, the Association for Manufacturing Excellence, the International Licensing Industry Merchandisers' Association (LIMA), the South Florida Chamber of Commerce, the Greater Miami Chamber of Commerce, and the Miami Beach Chamber of Commerce.