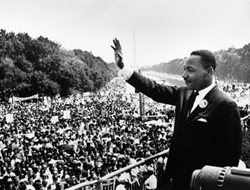 'Intellectual Property is currency,' said Scott Cooper, Creative Director and one of the Principals of World Patent Marketing. 'It protects creativity and original thought. It strengthens our general economy and allows the digital economy to thrive.'
New York, New York (PRWEB) January 16, 2015
World Patent Marketing, the world's fastest growing patent, idea protection and inventor service company, issues a white paper on the Martin Luther King "I Have A Dream" speech copyright. His speech, "I Have a Dream," is viewed as one of the most historical moments of the 20th Century, yet is almost impossible to listen or watch in its entirety. The speech, which won't be in the public domain until 2038, can only be used if the Martin Luther King estate is paid a hefty fee.
"Intellectual Property is currency," said Scott Cooper, Creative Director and one of the Principals of World Patent Marketing. "It protects creativity and original thought. It strengthens our digital economy."
About World Patent Marketing
World Patent Marketing is the world's fastest growing Patent and Inventor Services Company. World Patent Marketing specializes in offering high-quality and affordable patent services to inventors. The company and its employees are well known in the industry for knowledge and expertise in patent research, patent filings, patent searches, invention studies, utility patents, design patents, PCTs, European Union Patents, manufacturing, licensing and more. World Patent Marketing employs and contracts with over 350 people across four continents.
World Patent Marketing Achievements
World Patent Marketing is the only patent assistance company in history to be awarded a five star review rating from Consumer Affairs, Google, Trustpilot, Shopper Approved, Customer Lobby and ResellerRatings.com. World Patent Marketing has received accredited status and is an A Rated Member of the Better Business Bureau. World Patent Marketing is also a proud member of Dun and Bradstreet, the US Chamber of Commerce, the Association for Manufacturing Excellence, the International Licensing Industry Merchandisers' Association (LIMA) and the South Florida Chamber of Commerce.
World Patent Marketing in the News
The appointment of Matthew G. Whitaker, former Iowa US Attorney and Republican candidate for United States Senate, to the company's advisory board. Whitaker was appointed June 15, 2004 by President George W. Bush. Whitaker resigned in November 2009 following the appointment and confirmation of Nicholas A. Klinefledt, who was appointed by President Barack Obama.