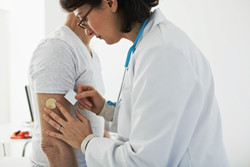 "New medical inventions like the Comfort Patch are capable of delivering sustained dosing of active compounds like never before." said Scott Cooper, CEO & Creative Director of World Patent Marketing
New York, New York (PRWEB) April 17, 2015
World Patent Marketing, a vertically integrated manufacturer and distributor of patented products, announces the development of the Comfort Patch, a medical invention that lets patients take medicine transdermally and avoid first pass metabolism by the liver.
"In the past, patches relying on passive transport mechanisms have been limited in their ability to deliver new classes of drugs," said Scott J. Cooper, CEO & Creative Director of World Patent Marketing, "With today's advances in synthetic materials and patch design, new medical inventions like the Comfort Patch are capable of delivering sustained dosing of active compounds like never before."
Recent studies have shown that it is not a person's fault if they have trouble swallowing pills. According to a group of German experts, it is possible that the person has been doing the process wrong. There are two methods to make swallowing pills easier. The first one is the "pop-bottle method" where you put the medicine on your tongue and close your lips around a water bottle. The second method is the lean-forward technique, where you bend your head forward while drinking. Both methods are said to make swallowing pills easier, but the Comfort Patch actually removes the need to swallow medication altogether.
This medical invention was designed so that people who have trouble swallowing medication can still ingest them. In most cases, if people have a hard time taking the drug, they simply decrease the dosage, don't take their meds on time, or skip taking the meds altogether. With the Comfort Patch, the patient simply slaps the patch on to get the meds into their system without the need to swallow any pills.
"This medical invention aims to help patients, especially those who are taking multiple medicines," says inventor Shelly D. "Instead of swallowing a handful of pills, several patches can be attached to the skin to ensure that all the necessary drugs are taken by the patient at the right time and with the correct dosage."
Angelo Patrice, a technology and medical blogger from Chicago says: "The comfort patch is an ingenious medical invention that will revolutionize the landscape of hospitals and pharmacies. With this medical invention, everyone can have easy access to medication."
World Patent Marketing is confident that the Comfort Patch will also help health professionals since they won't have to struggle with patients when administering medicine. Nurses and doctors will no longer have to argue with children or the elderly since all they have to do is slap the patch on to get better.
About World Patent Marketing
World Patent Marketing is a vertically integrated manufacturer and distributor of patented products. The company offers manufacturing, distribution, patent prosecution, IP valuation, licensing, trading, investment and other services. The company offers these products to independent inventors, law firms and venture capital-backed companies. The company is well known for evaluating the commercial potential of utility and other patents in the United States and around the world. The company directly engages in the business of retail, distribution and the retail sale of products.
World Patent Marketing Achievements
World Patent Marketing is the only patent services company in history to be awarded a five star review rating from Consumer Affairs, Google, Trustpilot, Shopper Approved, Customer Lobby and ResellerRatings.com. World Patent Marketing has received accredited status and is an A Rated Member of the Better Business Bureau. World Patent Marketing is also a proud member of Dun and Bradstreet, the US Chamber of Commerce, the Association for Manufacturing Excellence and the International Licensing Industry Merchandisers' Association (LIMA). World Patent Marketing Miami is also a member of the South Florida Chamber of Commerce, the Greater Miami Chamber of Commerce, and the Miami Beach Chamber of Commerce.
The Huffington Post reported on April 10, 2015, "Scott Cooper of World Patent Marketing says that promoting a patent requires a lot more than just a social media presence: "If you want to successfully market your idea, you have to live and breathe your invention. It basically needs to become a part of you. You should market your idea aggressively, pursuing every valuable opportunity that comes your way. In fact, promoting your invention is just as important as the actual inventing process."
Check Worldpatentmarketing.com reviews for the latest World Patent Marketing review.
World Patent Marketing BBB
World Patent Marketing Miami, FL
World Patent Marketing Miami Beach, FL
Submit Your Idea to World Patent Marketing