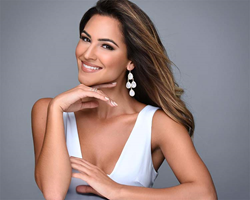 Kelsey is a terrific young woman," said Scott Cooper, CEO and Creative Director for World Patent Marketing. "Her life story blew me away. You know, some people are born with everything and they don't even have to try. Life is handed to them. Not Kelsey...
Miami, FL (PRWEB) September 30, 2016
World Patent Marketing, a vertically integrated manufacturer and engineer of patented products, announced that Miss Rhode Island USA 2017, Kelsey Swanson, is joining its advisory board. She is a determined young woman who has faced and overcome much adversity in her life and encapsulates World Patent Marketing's ideals and spirit.
"Kelsey is a terrific young woman," said Scott Cooper, CEO and Creative Director for World Patent Marketing. "Her life story blew me away. You know, some people are born with everything and they don't even have to try. Life is handed to them. Not Kelsey, she had challenges that would stop most people in their tracks, but she didn't quit. She kept at it and it paid off. She is going to be a great addition to the board. Her youth and energy are going to be a big benefit."
"This is a great moment for me," said Swanson. "Being on the Board at World Patent Marketing, where we are bringing new ideas and inventions out every day, is like we are creating the future. It's unbelievably cutting-edge and I hope that I can inspire more young people to go after their dreams, get busy, be creative, and bring those new inventions to the market. I really look forward to working in that kind of creative cutting-edge environment."
Kelsey Swanson grew up in Cranston, Rhode Island and went to Cranston High School West. She has always excelled in art and has won several Scholastic Art Awards. She also enjoys many physical activities including soccer, gymnastics, and ice-skating. In junior high, she was an accomplished cross country runner and won a gold medal in the city-wide track meet.
One of her other major interests is her passion for travel. Although she's only 22, she has visited 17 countries, including backpacking across Europe in 2012. Despite her busy lifestyle, she is still currently attending school at the University of Rhode Island.
However, her life isn't all fun. In 2014, she was in a serious car accident and came out with several head injuries. When the doctors went to examine, they found she had a brain tumor. Because she was competing at the time, they delayed her operation until November of 2015, when she went through a four-hour surgery with months of recovery. Although she worked very hard, she wound up losing both the 2015 and 2016 beauty pageants, but in a sense, she was lucky. If not for the accident, the doctors may never have found the tumor, which could have led her to lose her eyesight.
Despite having lost the two previous years, Swanson never gave up and started practicing again for the 2017 pageant. Unfortunately, around that time, her mother was diagnosed with breast cancer. Swanson was heavily affected by this, but never down for long, she was inspired by her mother to work even harder and eventually took the crown for the Miss Rhode Island 2017 beauty pageant.
Facing all these adversities has only made Swanson more determined. She continues to live life to the fullest, develop her talents, and compete in beauty pageants. Swanson uses her challenges and experience to learn and grow, which is the perfect attitude for a new member of World Patent Marketing's advisory board. She will be an invaluable asset for World Patent Marketing's new health and beauty product lines, and her never say-die-attitude will ensure its success.
ABOUT WORLD PATENT MARKETING
World Patent Marketing is always looking for new invention ideas. The company provides invention services and is one of the only patent companies that engineers and manufactures its own products. The company is broken into six operating divisions:
Patent Intelligence and Research * Prototypes and Manufacturing * Distribution and Retail * Digital Marketing and Social Media * Direct Response TV and Internet Video Production * Patent Licensing & Investments
As a global leader in the invention services industry, World Patent Marketing is by your side every step of the way, utilizing its capital and experience to guide the invention process towards a successful product launch so you can be one of the next World Patent Marketing Success Stories.
World Patent Marketing Reviews enjoy an A+ rating with the Better Business Bureau (World Patent Marketing BBB) and has earned five-star ratings from Google and consumer review sites such as Consumer Affairs, Trustpilot, Shopper Approved, Customer Lobby, ResellerRatings, My3Cents and World Patent Marketing Glassdoor.
The CEO of World Patent Marketing, Scott Cooper, is also a Director of The Cooper Idea Foundation is the founder of the New York Inventors Exchange and has also been a proud member of the National Association of Manufacturers, Duns and Bradstreet, the US Chamber of Commerce, the South Florida Chamber of Commerce, the Miami Beach Chamber of Commerce, the Greater Miami Chamber of Commerce, the Association for Manufacturing Excellence and the Society of Plastics Engineers.
Those who are wondering how hard is it to get a patent or how much does it cost to patent an idea, should contact the invention marketing experts.
World Patent Marketing credits its invention success to it's powerful and influential advisory board and its controversial "shock content" approach to invention marketing. According to Scott J. Cooper, the CEO and Creative Director of World Patent Marketing, complaints from competitors are just part of the World Patent Marketing cost of doing business."
To submit invention ideas, contact World Patent Marketing at (888) 926-8174. Corporate headquarters located at 1680 Meridian Avenue, Miami Beach, Florida 33139.