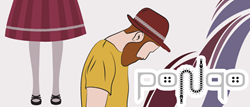 "The Fashion industry is worth $3 trillion," says Scott Cooper, CEO and Creative Director of World Patent Marketing. "This is a massive market and a product like this will cast a wide net in fashion."
Miami, FL (PRWEB) July 15, 2016
World Patent Marketing, a vertically integrated manufacturer and engineer of patented products, announces PoNgo, a clothing line that will emphasize customization.
"The Fashion industry is worth $3 trillion," says Scott Cooper, CEO and Creative Director of World Patent Marketing. "This is a massive market and a product like this will cast a wide net in fashion."
"One of the main reasons the fashion industry is so successful is because it allows people to express themselves," says Jerry Shapiro, Director of Manufacturing and World Patent Marketing Inventions. "This product will increase customization while decreasing consumer cost."
PoNgo is an innovative addition to clothing that increases freedom and customization. It involves creating clothing articles out of materials such as leather, silk, cotton, denim, nylon, and polyester and adding zippers, velcros, buckles, or buttons so they can be attached to other pieces of clothing. This will allow consumers to change their clothes to be exactly what they want them to be such as changing the length and style of a boot by attaching pieces that will make it longer or add accessories. PoNgo will save consumers money and space by allowing them to create their own clothing rather than having to buy hundreds of different, expensive designer brands.
"PoNgo is a Spanish term that means to put on. We've chosen this because it stands for what my invention really means," says inventor Anarisa J, "PoNgo is an attachable and or detachable system of an apparel for all type of person, from all walks of life. PoNgo's objective is for everybody to save time, space, and money."
Cindy Lawson, a college student in California, had this to say about poNgo: "I don't have a lot of money, but I love to look good. PoNgo lets me change my clothes to look however I want without having to buy any expensive brand names."
PoNgo is a fashion invention that will alter how consumers decide on which clothes to wear.
ABOUT WORLD PATENT MARKETING
World Patent Marketing is an innovation incubator and manufacturer of patented products for inventors and entrepreneurs. The company is broken into eight operating divisions: Research, Patents, Prototyping, Manufacturing, Retail, Web & Apps, Social Media and Capital Ventures.
As a leader in patent invention services, World Patent Marketing is by your side every step of the way, utilizing our capital and experience to protect, prepare, and manufacture your new product idea and get it out to the market. Get a patent with World Patent Marketing and the company will send representatives to trade shows every month in order to further advocate for its clients. It is just part of the world patent marketing cost of doing business.
World Patent Marketing Reviews enjoy an A+ rating with the Better Business Bureau and five star ratings from consumer review sites including: Consumer Affairs, Google, Trustpilot, Customer Lobby, Reseller Ratings, Yelp and My3Cents.
World Patent Marketing is also a proud member of the National Association of Manufacturers, Duns and Bradstreet, the US Chamber of Commerce, the South Florida Chamber of Commerce, the Greater Miami Chamber of Commerce, Association for Manufacturing Excellence, and the New York Inventor Exchange.
Like the World Patent Marketing facebook page. And, add us on Twitter and YouTube. You may also contact us at (888) 926-8174.