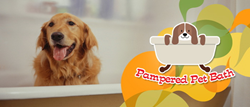 "The Pet Grooming industry is worth $6 billion," says Scott Cooper, CEO and Creative Director of World Patent Marketing. "The industry will grow at an impressive rate until 2015.
Chicago, IL (PRWEB) February 12, 2016
World Patent Marketing, a vertically integrated manufacturer and engineer of patented products, announces the Pampered Pet Bath, a bathing apparatus designed to cater to the needs of pets with handicap or mobility issues.
"The Pet Grooming industry is worth $6 billion," says Scott Cooper, CEO and Creative Director of World Patent Marketing. "The industry will grow at an impressive rate until 2015. More and more Americans are becoming pet owners and are spending more money on them."
"Pet ownership has been on the rise in the United States and globally over the last two decades, and the number of households owning pets is expected to continue to increase," says Jerry Shapiro, Director of Manufacturing and World Patent Marketing Inventions. "Additionally, as pets are increasingly humanized, pet owners are spending more pampering their pets than ever before. These trends will combine to continue to bolster the demand for premium pet products."
The Pampered Pet Bath is a bathing apparatus that supports dogs while they are being bathed. It is designed with special features which allow it to easily attach to any type of bathtub and can be easily dismantled and stored. It features adjustable straps that support the under girth of the dog. By supporting the pet, the stress normally experienced by pets and their owners during the bathing experience is reduced, particularly when the pet has mobility limitations. In many cases, the support provided by the Pampered Pet Bath will allow one person to easily bathe a dog when assistance from another person would have otherwise been required.
"I am very pleased to introduce the Pampered Pet Bath to pet owners across the globe.  I hope that pet owners everywhere will use this product to reduce the stress associated with bath time for both themselves and their pets," says inventor Gracie Galindo, President of Alex Chandler Enterprises, LLC.
The Pampered Pet Product is a premium pet invention that will not only make bathing your pets much easier but will also pamper your furry loved ones!
ABOUT WORLD PATENT MARKETING
World Patent Marketing is an innovation incubator and manufacturer of patented products for inventors and entrepreneurs. The company is broken into eight operating divisions: Research, Patents, Prototyping, Manufacturing, Retail, Web & Apps, Social Media and Capital Ventures.
As a leader in patent invention services, World Patent Marketing is by your side every step of the way, utilizing our capital and experience to protect, prepare, and manufacture your new product idea and get it out to the market. Get a patent with World Patent Marketing and the company will send representatives to trade shows every month in order to further advocate for its clients. It is just part of the world patent marketing cost of doing business.
World Patent Marketing Reviews enjoy an A+ rating with the Better Business Bureau and five star ratings from consumer review sites including: Consumer Affairs, Google, Trustpilot, Customer Lobby, Reseller Ratings, Yelp and My3Cents.
World Patent Marketing is also a proud member of the National Association of Manufacturers, Duns and Bradstreet, the US Chamber of Commerce, the South Florida Chamber of Commerce, the Greater Miami Chamber of Commerce, Association for Manufacturing Excellence, and the New York Inventor Exchange.
Visit the worldpatentmarketing.com website and find out how to patent an invention. Contact us at (888) 926-8174.