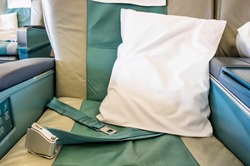 "This product has incredible potential," said Cooper. "It is an ingenious idea that taps into a real and growing need in the travel industry. Comfort and cleanliness are paramount. It is going to have extremely broad and deep market reach."
Miami, FL (PRWEB) July 14, 2016
World Patent Marketing, a vertically integrated manufacturer and engineer of patented products, announced a licensing agreement to patent, prototype, manufacture and distribute a revolutionary pillow. RVIP, Reserved Very Important Pillow, is a revolutionary new product with widespread consumer appeal.
"This product has incredible potential," said Scott J Cooper, CEO and Creative Director of World Patent Marketing. "It is an ingenious idea that taps into a real and growing need in the travel industry. Comfort and cleanliness are paramount. Plus this invention can be used at the poolside and in all kinds of venues. It is going to have extremely broad and deep market reach."
"I travel a lot, especially with our plants in China," said Jerry Shapiro, Director of Manufacturing for World Patent Marketing. "And one thing I know is that airline pillows are bad news. This new invention will allow me to get a good night's sleep on the plane, and reserve a spot at the pool for an afternoon drink when I am done with business for the day."
RVIP is designed to meet the needs of travelers, on airplanes, poolside, and in a variety of places. It has an adjustable elastic strap, to hold it in place on an airplane seat or lounge chair. The product is an ideal addition to the World Patent Marketing family of products, because like their other products Clean Seat, it is made of an anti-microbial fabric that prevents transmission of bacteria.
"There are other pillows on the market," said inventor, Donald K. "But there are none with the comfort and features of RVIP. This pillow does it all. And it is easily cleaned so that it is always sanitary and ready to go. With the reach of World Patent Marketing, it has international appeal."
World Patent Marketing plans to develop and manufacture the product, and possibly bring it to consumers through a significant Direct Response TV campaign.
ABOUT WORLD PATENT MARKETING
World Patent Marketing is an innovation incubator and manufacturer of patented products for inventors and entrepreneurs. The company is broken into eight operating divisions: Research, Patents, Prototyping, Manufacturing, Retail, Web & Apps, Social Media and Capital Ventures.
As a leader in patent invention services, World Patent Marketing is by your side every step of the way, utilizing our capital and experience to protect, prepare, and manufacture your new product idea and get it out to the market. Get a patent with World Patent Marketing and the company will send representatives to trade shows every month in order to further advocate for its clients. It is just part of the world patent marketing cost of doing business.
World Patent Marketing Reviews enjoy an A+ rating with the Better Business Bureau and five star ratings from consumer review sites including: Consumer Affairs, Google, Trustpilot, Customer Lobby, Reseller Ratings, Yelp and My3Cents.
World Patent Marketing is also a proud member of the National Association of Manufacturers, Duns and Bradstreet, the US Chamber of Commerce, the South Florida Chamber of Commerce, the Greater Miami Chamber of Commerce, Association for Manufacturing Excellence, and the New York Inventor Exchange.
Like the World Patent Marketing facebook page. And, add us on Twitter and YouTube. You may also contact us at (888) 926-8174.