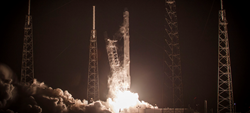 'I want World Patent Marketing to be in the history books,' said Scott Cooper, of WPM. 'Ever since I was a kid, I dreamed of going to outer space. It would be my privilege to work with an inventor on rocket reusability and low cost space spaceflight.'
New York, New York (PRWEB) January 11, 2015
World Patent Marketing, the world's fastest growing patent, idea protection and inventor services company, encourages its inventor pool to continue to submit space related patents.
According to a NBC News Report, on January 10, 2015, SpaceX launched a Falcon 9 rocket that successfully put a Dragon cargo capsule in orbit on Saturday, but its unprecedented attempt to land the uncrewed rocket's first stage at sea ended with a crash. After the Dragon and the Falcon's second stage separated and went on their way, the 14-story-tall first stage was programmed to try flying itself back to an "autonomous spaceport drone ship" sitting about 200 miles off of Florida's Atlantic coast. SpaceX's billionaire founder, Elon Musk, said in a Twitter update that the stage "made it to drone spaceport ship, but landed hard."
"Close, but no cigar this time," he said.
"I want World Patent Marketing to be in the history books," said Scott Cooper, Managing Director of World Patent Marketing. "Ever since I was a kid, I dreamed of going to outer space. It would be my privilege to work with an inventor on rocket reusability and low cost spaceflight."
"Many of us who were interested in space development and usage from an early age...thought that reusable was the way to go," said Aleta Jackson, a co-founder of California-based XCOR Aerospace, who has worked on rocket projects going back to the Gemini program of the 1960s. "But with the launch of Sputnik, that reasoned, incremental approach was abandoned for the need to beat the Soviets at any cost."
About World Patent Marketing
World Patent Marketing is the world's fastest growing Patent and Inventor Services Company. World Patent Marketing specializes in offering high-quality and affordable patent services to inventors. The company and its employees are well known in the industry for knowledge and expertise in patent research, patent filings, patent searches, invention studies, utility patents, design patents, PCTs, European Union Patents, manufacturing, licensing and more. World Patent Marketing employs and contracts with over 350 people across four continents.
World Patent Marketing Achievements
World Patent Marketing is the only patent assistance company in history to be awarded a five star review rating from Consumer Affairs, Google, Trustpilot, Shopper Approved, Customer Lobby and ResellerRatings.com. World Patent Marketing has received accredited status and is an A Rated Member of the Better Business Bureau. World Patent Marketing is also a proud member of Dun and Bradstreet, the US Chamber of Commerce, the Association for Manufacturing Excellence, the International Licensing Industry Merchandisers' Association (LIMA) and the South Florida Chamber of Commerce.
World Patent Marketing in the News
The appointment of Matthew G. Whitaker, former Iowa US Attorney and Republican candidate for United States Senate, to the company's advisory board. Whitaker was appointed June 15, 2004 by President George W. Bush. Whitaker resigned in November 2009 following the appointment and confirmation of Nicholas A. Klinefledt, who was appointed by President Barack Obama.