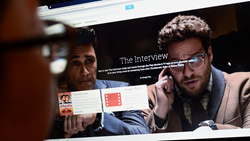 "The Interview Controversy is a perfect example of how the media, given a push in the right direction, can do most of the work for you." said Scott Cooper, Creative Director of World Patent Marketing.
New York, New York (PRWEB) January 26, 2015
World Patent Marketing, the world's fastest growing patent, idea protection and inventor services company, issued a white paper last week on The Interview Controversy.
"I have long been advising our inventors and manufacturers on the correct way to launch a product." said Scott Cooper, Creative Director and one of the principal investors of World Patent Marketing, "The Interview Controversy is a perfect example of how the media, given a push in the right direction, can do most of the work for you. I refuse to work with inventors and manufacturers that live on another planet and are not able to accept the realities of doing business in the 21st century."
On January 5, 2015, Venturebeat reported that Sony's Sony chief executive Kaz Hirai said, "The hacking of Sony Pictures Entertainment's private employee emails and the attempt to shut down the release of "The Interview" were "one of the most vicious and malicious cyberattacks we have known in recent history." Controversy has long been a way to have your new idea quickly recognized in the marketplace. Marketing has long been a way to increase attendance and revenue for theatrical movie releases. It goes back to the days Hitchcock and the release of Psycho, for which he personally devised a campaign to whip the audience into a frenzy before they even bought their tickets.
According to a New York Times article published on December 20, 2104, North Korea threatened action against the U.S. should The Interview be released. The controversy spread when Sony Pictures Entertainment and its employees' files and emails were hacked. These events actually generated publicity for Sony, hyping up anticipation for the release of The Interview. "The Interview" was released on Netflix this past weekend. In addition, basketball great Dennis Rodman, created additional controversy while in attendance at Sundance this week for the premiere of his Slamdance documentary Dennis Rodman's Big Bang in Pyongyang. His documentary chronicles then time he spent in North Korea with Kim Jong Un. As repprted on January 24, 2015 by The Hollywood Reporter, Rodman was dissapointed when he was quoted saying "They're doing a movie about North Korea and it's a comedy. And I went cool, cool cool. The next thing you know, I'm seeing some of the pieces, and he wants to go kill this guy? That ain't funny. That is not funny."
The Interview's eventual release and wild success has illustrated many important aspects of public relations and how media monitoring can help you leverage these points:
The Interview Controversy Sparked Scandal And That Can Be Profitable
The Interview Controversy Shows That Customers Always Want Something They Can't Have
The Interview Controversy Shows How And Where To Place Your Product Can Increase Your Return On Investment Exponentially
Therefore, the use of social media monitoring can provide companies with great information about their potential audience. Called psycho-graphics and demographics, these tools can help pinpoint which outlets will be most effective for your planned product launch.
About World Patent Marketing
World Patent Marketing is the world's fastest growing Patent and Inventor Services Company. World Patent Marketing specializes in offering high-quality and affordable patent services to inventors. The company and its employees are well known in the industry for knowledge and expertise in patent research, patent filings, patent searches, invention studies, utility patents, design patents, PCTs, European Union Patents, manufacturing, licensing and more. World Patent Marketing employs and contracts with over 350 people across four continents.
World Patent Marketing Achievements
World Patent Marketing is the only patent assistance company in history to be awarded a five star review rating from Consumer Affairs, Google, Trustpilot, Shopper Approved, Customer Lobby and ResellerRatings.com. World Patent Marketing has received accredited status and is an A Rated Member of the Better Business Bureau. World Patent Marketing is also a proud member of Dun and Bradstreet, the US Chamber of Commerce, the Association for Manufacturing Excellence, the International Licensing Industry Merchandisers' Association (LIMA) and the South Florida Chamber of Commerce.
Click here to Submit Your Idea to World Patent Marketing