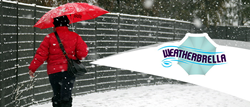 "The Outdoor Industry in the U.S. is worth $4 billion,"says Scott Cooper, CEO and Creative Director of World Patent Marketing. "The industry is facing escalating competition from other retailers...
Miami, FL (PRWEB) May 18, 2016
World Patent Marketing, a vertically integrated manufacturer and engineer of patented products, announces the Weatherbrella, a new and improved version of the traditional umbrella.
"The Outdoor Industry in the U.S. is worth $4 billion," says Scott Cooper, CEO and Creative Director of World Patent Marketing. "The industry is facing escalating competition from other retailers. Everyone is eager to take a slice from profits brought about by rising consumer spending."
"Regular umbrellas have limited protection against foul weather conditions such as rain and snow," says Jerry Shapiro, Director of Manufacturing and World Patent Marketing Inventions. Because of this, they usually end up soaking wet and extremely miserable while trying to dry their wet clothing and footwear. This unique and highly useful household invention called the Weatherbrella is specially designed to protect not only the top portion but the entire body."
The Weatherbrella provides better protection against bad weather as compared to a regular designed umbrella. Made with highly durable and water-proof material, this invention comprises of a special design that allows users to thoroughly protect their entire body while experiencing bad weather outdoors. Using a regular designed umbrella only allows you to protect the top portion of your body and unfortunately, the bottom part of the body is still fully exposed to the elements. The Weatherbrella has a curtain-like extension feature which serves as an effective barrier against wind, snow and water.
"As I was walking towards my car on a rainy, windy and snowy day, I was completely soaked and cold," says inventor Sheikh M. "Even with an umbrella snow, rain, and the freezing wind chills were all being blown at me. It wasn't a great scene. Then it hit me. Why not invent something in which would act as a protective barrier that would protect you from the rain, snow or even freezing cold wind chills. Thus, the idea of the Weatherbrella was introduced."
Brenda Mills, an office employee from Florida, has this to say about Weatherbrella: "I hate it every time I have to go to work during rainy days because I end up soaking wet all the time. Thanks to Weatherbrella, I am able to protect my entire body from getting wet, thus making me still look presentable for office work even during bad rainy weather."
Weatherbrella is a household invention which will provide better outdoor protection during bad weather.
ABOUT WORLD PATENT MARKETING
World Patent Marketing is an innovation incubator and manufacturer of patented products for inventors and entrepreneurs. The company is broken into eight operating divisions: Research, Patents, Prototyping, Manufacturing, Retail, Web & Apps, Social Media and Capital Ventures.
As a leader in patent invention services, World Patent Marketing is by your side every step of the way, utilizing our capital and experience to protect, prepare, and manufacture your new product idea and get it out to the market. Get a patent with World Patent Marketing and the company will send representatives to trade shows every month in order to further advocate for its clients. It is just part of the world patent marketing cost of doing business.
World Patent Marketing Reviews enjoy an A+ rating with the Better Business Bureau and five star ratings from consumer review sites including: Consumer Affairs, Google, Trustpilot, Customer Lobby, Reseller Ratings, Yelp and My3Cents.
World Patent Marketing is also a proud member of the National Association of Manufacturers, Duns and Bradstreet, the US Chamber of Commerce, the South Florida Chamber of Commerce, the Greater Miami Chamber of Commerce, Association for Manufacturing Excellence, and the New York Inventor Exchange.
Visit the worldpatentmarketing.com website and find out how to patent an invention. Contact us at (888) 926-8174.