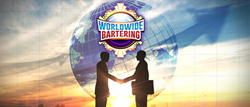 "The e-trading software development industry makes $6 billion every year," says Scott Cooper, CEO and Creative Director of World Patent Marketing.
Chicago, IL (PRWEB) December 23, 2015
World Patent Marketing, a vertically integrated manufacturer and engineer of patented products, announces Worldwide Bartering, an app invention that creates a virtual market place for barter exchanges between people all over the world.
"The e-trading software development industry makes $6 billion every year," says Scott Cooper, CEO and Creative Director of World Patent Marketing. "As new regulations on the financial sector brings forth an technology spending by financial institutions, new product offerings and higher demand will continue to drive industry growth over the next five years."
"Before the advent of money and paper currency, barter trades were the primary means of acquiring other goods," says Jerry Shapiro, Director of Manufacturing and World Patent Marketing Reviews. "Unfortunately, this method is deemed inefficient as it is difficult to negotiate and acquire items you are looking for while selling your goods at the same time. Worldwide Bartering is an app invention that promotes the old idea of the barter trade system and uses technology to make it accessible to modern society."
Worldwide Bartering is a software application that enables people anywhere in the world to trade items with one another. It creates a virtual market where people can buy and sell their products directly. This app invention makes the barter trade easier by allowing people to showcase their products as well as let them look for other items that they wish to purchase. The problem with barter trades is that if the person you are looking to buy from isn't looking to purchase what you are selling, a trade can't be done. However, by using this app, three-party trades or even more can be done so that everyone will be able to get what they want.
"As a youngster in the southern part of Kentucky during & after World War II Money was in very short supply therefore trading was a way of life",says inventor William H. "I learned my lesson very well locally I trade for everything that I can. Now with this program I will be able to trade world wide."
Lillian Carter, an economist blogger from Lubbock, TX, has this to say about Worldwide Bartering: "The problem with buying something abroad is that the buying power of your current currency is different. Since it will have to be converted, the ability to buy is largely dependent on the exchange rate. However, Worldwide Bartering has no issue with this as goods are traded directly for goods and the amount is determined by the people involved on what they need and what they think is fair. This app invention does away with the reliance for exchange rates and such which means the products of a person can become equivalent trade to another person's products with no loss or gain in money conversions."
Worldwide Bartering re-enacts the old barter trades but updates the system using modern technology. This app invention enables even more complex trades between more people and in areas that are farther apart.
About World Patent Marketing
World Patent Marketing is an innovation incubator and manufacturer of patented products for inventors and entrepreneurs. The company is broken into eight operating divisions: Research, Patents, Prototyping, Manufacturing, Retail, Web & Apps, Social Media and Capital Ventures.
As a leader in patent invention services, World Patent Marketing is by your side every step of the way, utilizing our capital and experience to protect, prepare, and manufacture your new product idea and get it out to the market. Get a patent with World Patent Marketing and the company will send representatives to trade shows every month in order to further advocate for its clients. It is just part of the world patent marketing cost of doing business.
World Patent Marketing Success Stories are made possible because of its A+ rating with the Better Business Bureau and its five star ratings from consumer review sites including: Consumer Affairs, Google, Trustpilot, Customer Lobby, Reseller Ratings, Yelp and My3Cents.
World Patent Marketing is also a proud member of the National Association of Manufacturers, Duns and Bradstreet, the US Chamber of Commerce, the South Florida Chamber of Commerce, the Greater Miami Chamber of Commerce, Association for Manufacturing Excellence, and the New York Inventor Exchange.
Visit the worldpatentmarketing.com website and find out how to patent an invention. Contact us at (888) 926-8174.