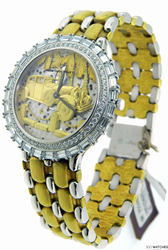 Our mission is to showcase the finest merchants and artists in the world who inspire us with their passion to create the very best.
Dallas, TX (PRWEB) December 02, 2014
What's on your holiday shopping list this year? How about a $280,000 Audemars Piguet watch? Or a personal submarine for $1.5 million? Perhaps a $100,000 custom Jeep for the ranch?
For the fortunate few who are actually in the market for such things, now there's a site designed specifically for you. On December 1, Dallas-based World's Best Enterprises launched its ultimate shopping site, World's Best Showcase, at http://www.worldsbest.com. Their singular purpose is to cater to the most elite shoppers around the globe in a broad range of luxury categories.
World's Best is the vision of founding partners, Robert Steele, a former top executive at PepsiCo, and Kevin Chow, an experienced e-commerce entrepreneur. Steele and Chow joined to create the foremost online destination where discerning shoppers can find "the best of the best" products from around the globe.
According to Robert Steele: "Our mission is to showcase the finest merchants and artists in the world who inspire us with their passion to create the very best." World's Best prominently features their merchant partners in stunning showcases created for each merchant.
World's Best is a curated site and all merchants are by invitation only. The founders wanted to spare shoppers the many hours of online research it takes to find such extraordinary merchants. Kevin Chow says the goal is "to make it convenient for sophisticated shoppers to find the very finest merchandise in a variety of categories and then purchase with one click from anywhere in the world."
World's Best is well positioned to benefit from powerful trends in the marketplace. First is the explosive growth in ecommerce retailing. According to Forrester Research Inc., online retail sales in the U.S. are expected to grow by 57% from $263 billion in 2013 to $414 billion in 2018. Further, the online sales of luxury goods is growing twice as fast as the overall market according to a recent study by McKinsey.
The luxury categories at World's Best include fine jewelry and watches, original art and sculpture and a Lifestyle section that features one-of-a-kind items such as custom Jeeps and personal submarines.
Steele and Chow say that World's Best is not about flaunting wealth but, rather, discovering and experiencing the very best in life. For successful individuals, that often includes enjoying the most unique and desirable products available at any cost.
Those who can afford the very best typically view their high-priced acquisitions as excellent value for the money considering the extraordinary quality of the merchandise. Spending $3,000 on Italian sheets for your bed might seem wildly extravagant to many. But for those who can afford it, they say it's worth every penny considering that you spend a quarter of your life sleeping on them.
Of course, some Masters of the Universe will be drawn to the Lifestyle section that features exotic items such as an Ostrich Duffle bag for $18,500, perfect for carrying your $1,550 Chuck Taylor snakeskin sneakers.
The emphasis on quality and elegance imbues the design of the World's Best site. The principal site architect, Kevin Chow, said that they designed World's Best to be an elegant showcase for the finest merchants and artists and an attractive place of discovery for sophisticated shoppers.
In the coming months, Steele and Chow plan to selectively grow their World's Best roster of top merchants and artists and build their global audience of elite shoppers. They are already in discussions with private equity firms and strategic partners about raising capital in early 2015.
Ultimately, their goal is to make World's Best a leading global luxury brand and the indispensable online destination for the world's most discerning shoppers.
About World's Best Showcase:
Founded by Robert Steele and Kevin Chow, World's Best is an online showcase for the finest artists and merchants in the world and a place of discovery for shoppers seeking the very best. Launched in December, 2014, World's Best is set to become one of the fastest growing ecommerce sites in luxury retail.
Contact Information:
Robert Steele, Founding Partner
972-342-0567
rsteele(at)worldsbest(dot)com
http://www.worldsbest.com