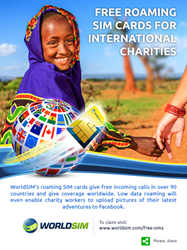 Charities are doing great work all around the world in very difficult circumstances. By putting an end to extortionate roaming bills, charities will be able to free up more funds generated from donations and use them to benefit the needy and less fortunate
(PRWEB UK) 23 June 2014
International roaming specialist, WorldSIM, have today announced that they will be giving away free international SIM cards to charities in a bid to help non-profit organisations reduce their mobile phone bills while they are doing their all-important work overseas.
Charities have had to tighten their belts over the past few years with the decline of public donations. Not-for profit organisations need all the help they can get in order to give aid to those who need it. The cost of international roaming is a huge expense to non-profit organisations – a cost which WorldSIM's global SIM cards can reduce by up to 85%.
With big network providers charging extortionate amounts, particularly in developing countries where charities carry much of their work, just answering a call while overseas could cost as much as £1.50 for those with a UK SIM, $4.09 for Australians, and USA residents might pay up to $5.99, all per minute.
WorldSIM travel SIM cards will enable international charity workers to benefit from free international roaming in over 90 different countries and use data at a fraction of the cost. WorldSIM will give up to 3 SIM cards out per charity and have launched this offer worldwide. International charities should visit http://www.worldsim.com/free-sims to claim their roaming SIM card.
Arif Reza, WorldSIM's CEO, shared, "Charities are doing great work all around the world in very difficult circumstances. By putting an end to extortionate roaming bills, charities will be able to free up more funds generated from donations and use them to benefit the needy and less fortunate."
About WorldSIM:
WorldSIM provides a range of solutions to reduce the cost of using your phone, laptop and tablet while travelling internationally. As specialists in international roaming and data roaming, WorldSIM offer a selection of award winning travel accessories suitable for leisure and business use.
For more information about WorldSIM international roaming products, please visit: http://www.worldsim.com.