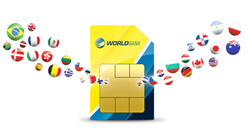 Business and leisure travellers can now be truly global without the associated costs of roaming; this service is simple to use and anyone is able to use it.
London (PRWEB UK) 9 December 2014
By using one of WorldSIM's 'Virtual numbers', international travellers can easily forward their existing phone number to a virtual number which will enable them to continue receiving incoming calls while they are abroad. Calls are routed through WorldSIM which enables travellers to pay almost as little as they would in their country of residence, rather than expensive roaming charges.
As the majority of mobile contracts have free inclusive minutes, forwarding your existing number to a 'virtual number' will be free in most cases. When someone calls your regular mobile number, they will be redirected to your virtual number, which in turn will be routed to WorldSIM. In this way customers can still save up to 75% on roaming charges, yet still be reachable on their existing number.
Virtual numbers are currently available from over 40 countries and WorldSIM is already planning on adding numbers for more countries. This 'Virtual Numbers' service also enables travellers to route calls from their virtual number on to any phone number of their choice whilst they are not travelling. This service is available in USA, Australia, France and UK to name a few.
A WorldSIM spokesperson commented, "Business and leisure travellers can now be truly global without the associated costs of roaming; this service is simple to use and anyone is able to use it. What's more, this service enables users to add unlimited numbers to their SIM card so they might want to add a French number or Polish number for example."
For more information please visit the WorldSIM website https://www.worldsim.com/virtual-phone-number/