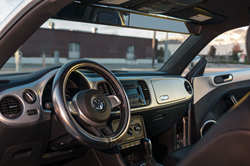 We wanted the WorldView Mirror to not only keep drivers safe on the road but also inside the car as well.
Houston, TX (PRWEB) June 08, 2015
WorldView Mirror gives parents peace of mind as they now have the ability to keep watch over their children in the backseat while simultaneously keeping their eyes on the road. WorldView mirror has already raised over $12,000 through the help of over 100 backers on Kickstarter.
The WorldView Mirror is a total of 46 inches long with a one-inch, convex arch in the mirror and features two adjustable pivot joints that allow all drivers to use the mirror to its full advantage, no matter their height. With its two-point attachment system, it easily fits in every type of car, providing optimal visibility for drivers. Parents can easily transfer their WorldView Mirror from car to car, as it is easy to use and compatible with any car type.
The uniquely-crafted design of the WorldView Mirror gives parents maximum peripheral vision, while optimizing driver visibility and safety, as well as eliminating blind spots. Having this kind of visibility eliminates the need to turn around to monitor passengers or children, which helps reduce the risk of car accidents and, overall, reduces the stress level of the driver.
"We wanted the WorldView Mirror to not only keep drivers safe on the road but also inside the car as well," said President of SharmaTech, LLC and Creator of the WorldView Mirror, Sumeet Sharma. "We designed our product to extend across all vehicle types so that everyone could use the WorldView Mirror to its utmost advantage. Not only does it make traveling safer, it allows drivers to keep watch over their children and their pets without having to take their eyes off of the road."
Early Bird rewards are still available to backers starting at $79, which is over 60 percent off the market retail price. For more information, visit http://bit.ly/WorldViewMirrorKS or email olivia(at)worldviewmirror(dot)com.
About SharmaTech, LLC
The WorldView Mirror is brought to you by SharmaTech LLC, located in Houston, TX. SharmaTech focuses on providing quality solutions to common problems that have inexplicably gone unaddressed in our modern world. We pride ourselves on bringing creativity to life through our top-quality products. For more information visit http://www.worldviewmirror.com.