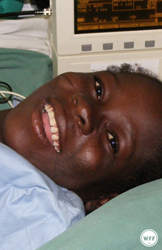 The Worldwide Fistula Foundation provides trained surgeons, education and nursing care to repair the fistula, so a woman can be given back her health and confidence.
Schaumburg, IL (PRWEB) May 09, 2014
This Mother's Day, the World Fistula Fund is drawing attention to the estimated two to three million of the most impoverished and disenfranchised women in the world who endure a life of pain, fear and misery due to obstetric fistula suffered while trying to deliver a child. Without medical care, these women, who most likely delivered stillborn babies, will never be welcomed back into their homes and communities without help.
Every year, it is estimated that we spend $18 million on Mother's Day gifts. As we remember and celebrate the strength and sacrifice of all mothers this Sunday, the Worldwide Fistula Fund is encouraging people to make donations or honoring the mothers in their lives with donations in their names to benefit the mothers and women who desperately need help. Even small donations will help make a life-changing difference for the women who are afflicted with this medical condition.
What is obstetric fistula? Obstetric fistula is a hole in the birth canal that occurs during obstructed labor, leaving a woman incontinent. Obstetric fistulas often occur in extremely young women, 12-, 13- or 14-year olds whose pelvises are not large enough to pass their babies through. They are impoverished and unaware of—or unable to access—the treatments available to repair their ravaged bodies. These women are unable to control the flow of urine and feces and the associated unpleasant odor. Obstetric fistula is both preventable and treatable. In the developed world, childbirth has become a safe and rewarding experience. However, this is not the case for many women in the developing world.

An estimated 50,000 to 100,000 women develop obstetric fistula each year worldwide.
Almost 70% of fistula victims end up with no living children. In the developing world, where family is usually one's only source of security, the lack of children is devastating.
Most fistula sufferers are young women—many still in their early twenties or even late teens.
58% of births in developing countries occur with no medical supervision.
According to Worldwide Fistula Fund Executive Director, Maureen Powers, there is hope and good news. "The WFF provides free fistula repair surgery, a prevention program, and a reintegration program for women with fistula. In February 2012, WFF opened a hospital dedicated to fistula repair. Women with fistula are often low priority within healthcare systems overwhelmed by acute needs. The Danja Fistula Center is a freestanding center dedicated entirely to fistula. In 2013, 249 women received free fistula repair surgery and took classes in literacy, basic math and income-generating skills to develop economic opportunities for themselves and their families. Our prevention program is benefitting women in the surrounding communities with information on how to prevent fistula. Our goal is to provide fistula surgeries and support services to 500 women annually in the coming years."
About the Worldwide Fistula Fund
The Worldwide Fistula Fund promotes and supports programs aimed at prevention of obstetric fistula, providing comprehensive care and expert surgical services for women suffering from obstetric fistula, and programs focused on helping women reintegrate in to their communities following treatment. WFF supports programs in Ethiopia, Uganda and Niger that transform the lives of women, families, and entire villages. Learn more at http://www.wffund.org.