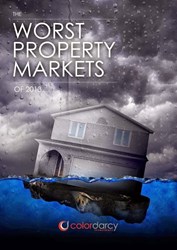 These countries can teach us a lot about property market cycles and even the opportunities they can offer investors.
(PRWEB UK) 3 December 2013
Much is written about the best places to invest in the world at the end of each year, however Colordarcy.com think that there is also plenty for investors to learn from those markets that did not do so well.
Investing in any of the countries included in this guide may have resulted in financial losses, however some may well be reaching the bottom when it comes to price falls, which hints at better things to come in 2014 and beyond.
Loxley McKenzie, Managing Director of Colordarcy.com comments, "I think it is important to bring some balance by drawing investors' attention to those countries that offered little in the way of capital growth or profitable rental returns in 2013. These countries can teach us a lot about property market cycles and even the opportunities they can offer.
We know there are worse places to invest in the world than the countries we have chosen, however we only select those countries with stable governments and democracies, as well as functioning economies."
Colordarcy's worst property markets this year are once again all in Europe; but
only one survivor remains from last year's Worst Property Markets report and that is Greece.
Colordarcy has selected its 5 worst property markets by looking at the following criteria: economic performance; capital growth potential, rental market, finance and mortgage accessibility and value.
What each of the worst property markets has in common is an economy that is struggling to recover from recession and registering little in the way of growth.
Economic growth is essential to the health of a country's property market because it creates the conditions that will stimulate demand for houses say analysts at Colordarcy.
Inside the guide, Colordarcy will reveal the following:
The Worst Places To Invest
Discover the kinds of places where recruiting local heavies is the best way to evict tenants.
What Makes A Property Market Go Bad
Find out the shocking truth about the poor performance of these countries and why prices just keep on tumbling.
What Investors Can Expect In 2014
Find out which property markets are ready to hit the bottom in 2014 and which have even further to fall.
The Worst Property Markets Of 2013 report is available to download direct from Colordarcy.com here and a debate on the subject is being held on the Colordarcy Google Plus page.
Notes to the editor:
Colordarcy is a leading property investment company that specialises in finding positive cash flow investment properties worldwide. Their aim is to provide their clients with properties that offer the unique combination of strong growth returns and cash flow positive income.
Investing in positive cash flow property significantly reduces the risk because the property will pay for itself regardless of market conditions, employment status or other financial commitments.
Colordarcy provides complete support before, during and after a sale, including finding tenants, financial assistance, viewing trips and currency services. Colordarcy are proud members of the 'Association of International Property Professionals' (AIPP), and abide by its code of conduct, one established to protect the buyer, by ensuring members follow professional guidelines and procedures.
Colordarcy investment property portfolio includes some of the best properties for sale in Brazil, Florida, Turkey and the United Kingdom.
For more information, supporting pictures or logo artwork, please contact:
Brett Tudor
PR Manager
Tel: +44 (0) 207 100 2393
Email: press(at)colordarcy(dot)com
Web: http://www.colordarcy.com/
Colordarcy Investment Ltd
28 Leman Street
London
E1 8ER