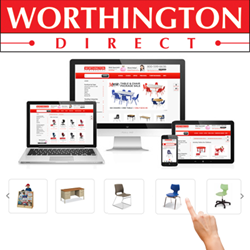 Mobile traffic continues to grow year over year as more and more customers shop and make furniture decisions while using their tablets or smartphones
Dallas, Texas (PRWEB) January 07, 2015
Worthington Direct announced the launch of their all new, mobile-friendly website providing customers with access to their online furniture shopping site using any device. The responsive design allows shoppers to browse, plan, and purchase furniture with ease on their smartphones, tablets, laptops and desktop computers. Worthington Direct timed the January 5th web launch to coincide with their new 2015 printed catalog hitting mailboxes across the nation.
"Mobile traffic continues to grow year over year as more and more customers shop and make furniture decisions while using their tablets or smartphones," said Brian Heiland, vice president of Worthington Direct. "We definitely wanted to make sure our website provided all of our users, mobile and desktop, with a smooth and complete shopping experience."
Rather than create a separate mobile website, Worthington Direct opted to keep things streamlined with a responsive website that only adjusts according to a user's display size. It's no surprise since responsive web designs are touted as being easier to maintain and provide users with a reliable platform, from no matter which device the educational furniture website is viewed.
Access to http://www.worthingtondirect.com on mobile devices is especially convenient for Worthington Direct customers that often work in groups as part of a purchasing committee, school board, or corporate procurement team. Making decisions on educational or commercial furniture often requires research, planning and most importantly- approvals. Now that all members of a group can simultaneously access the website during planning sessions using their mobile devices, decisions can be made faster. Anywhere groups meet- from the boardroom to the playground.
Popular features such as their freight calculator, furniture image galleries, buyer's guides and product videos are all still accessible; they are just more user-friendly for mobile customers. The live chat feature is currently only available to laptop and desktop users, however the live chat feature will be rolled-out to mobile customers later this year.
Worthington Direct customers today have the best of both analog and digital worlds. When shopping for school, church, office, or preschool furniture, people can thumb through a full-color printed catalog, use their tablet to watch product videos online, and now place an order using their smartphone from virtually anywhere.
Worthington Direct has been an educational furniture dealer for almost 18 years, supplying schools, churches and preschools with classroom furnishings at wholesale discount prices. In recent years, they have expanded their office furniture product offerings and are now equally as competitive in the commercial furniture industry. Furniture products such as school chairs, student desks, lockers, office furniture, cafeteria tables, whiteboards, computer and science lab furniture can be purchased through their direct mail catalog, or their newly revamped, mobile-friendly website.