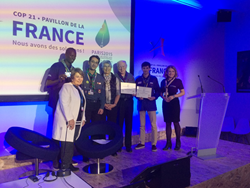 Paris, France (PRWEB UK) 9 December 2015
Today, Scott Teare, Secretary General of the World Organization of the Scout Movement (WOSM), announced on behalf of the 40 million Scouts worldwide that the Movement will intensify its efforts in making the world a better place.
Scott Teare said: "I am proud to announce that 40 million Scouts across 223 countries and territories are committing a further 1 billion hours of community service as a contribution to the achievement of the Sustainable Development Goals – inspiring their communities, taking responsibility for shaping a better world. This is our Scout Promise."
Since 2012, Scouts around the world have already contributed more than 639 million service hours covering over six million community projects through activities and initiatives in the Better World framework, namely Messengers of Peace, World Scout Environment Programme and Scouts of the World Award. About 40% of the over 639 million service hours were coming out of environmental projects.
The World Organization of the Scout Movement and the World Association of Girl Guides and Girl Scouts (WAGGGS) issued a joint statement on 4 December calling on all parties to include young people in defining the solutions to the climate change issue given that they are the generation which will be affected. Both WOSM and WAGGGS are present and contributing to the COP21 debates in Paris.
Today, at a COP21 event hosted by Corinne Lepage, in charge of a Mission for French President François Hollande on the Rights of Humanity, four Scouts representing the 40 million Scouts were given a "Youth Leadership Award for the Environment" recognising their contribution towards environmental and humanitarian relief efforts. In a video message, President Hollande congratulated the Scouts representatives for their leadership in environmental protection.
Ms Lepage said: "The Scouts truly deserve this Award for their tireless efforts in environmental conservation as well as in promoting peace and protecting the rights of humanity across borders, religions, gender and age. Back in October, I had challenged the Scouts to contribute further to create positive change in their local communities. I believe they have met the challenge, based on their commitment to produce 1 billion hours in community service projects."
Scott Teare added: "Since the inception of World Scouting over 100 years ago, Scouts around the world have been taking action to address environmental and natural disaster issues in their communities and countries – from disaster response efforts in Haiti, Madagascar, Nepal and the Philippines, to initiating the Trees For The World campaign in Ecuador, Canada and Kenya, coral reef restoration and mangrove tree planting in Indonesia."
Ends
About the World Organization of the Scout Movement (WOSM)
Scouting is one of the world's leading educational youth movements, engaging millions of young people around the world to be active citizens to create positive changes in the communities they live in. Since 1907! Founded by Lord Baden-Powell, WOSM is a confederation of 161 National Scout Organizations in a network of over 40 million members, including some 7 million volunteers. As it has been doing for more than a century – creating a better world – it will continue to do so, and even better with the many Messengers of Peace across the globe.
For media enquiries, please contact:
Lin Lin Yeoh, Global Director, Communications & External Relations
World Scout Bureau Global Support Centre, Kuala Lumpur
linlinyeoh(at)scout(dot)org
skypename: yeohlinlin
Christophe Lécureuil, Leidar
+41-79-103-1976
Christophe.lecureuil(at)leidar(dot)com