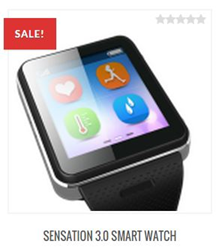 We are very pleased that "Te Compro Tu Historia" chose NexGen One and the new WOW Evolution Smart Watch, Said Cliff Henley
San Luis Obispo, CA. (PRWEB) February 24, 2015
WOW Wearables , with Its new Smart Watch technology, a division of NexGen One, is pleased to announce they have been chosen as the exclusive sponsor for the upcoming debut of the Spanish Talk Show: "Te Compro tu Historia" - "I'll Buy Your Story", a daily televised show targeting the Latino communities. This much anticipate show will begin airing in April in the United States and will expand its markets to include Mexico and all of Latin America. "We are proud that WOW Wearables is to be promoted on 3000+ episodes beginning in April, 2015," stated Cliff Henley, CEO, NexGen One
Jose Luis Gonzalez, who hosted and produced one of the most popular, highly rated and long running talk shows in Spanish "Jose Luis Sin Censura, alez, has more than 30,000,000 followers who are anxiously awaiting for the kickoff of this first season. The show is focused on people who want to receive a second chance in life. Mr. Gonzalez will be wearing and promoting the latest WOW Smart Watch on all episodes. This next generation smart watch, known as the Evolution, is the most intelligent and feature-rich wearable in the world. What's more, the device is unlocked, allowing users to choose any GSM network provider in the world and not have to pair it with a phone or other smart devices, ever.
"Although there were numerous brand named sponsors we could have selected, the decision to go with NexGen One and the WOW Evolution Smart Watch was obvious. Having this cutting edge technology being promoted direct from my wrist to millions of dedicated viewers in the Latino communities opens up a prime market, in that we have a product we are proud to endorse and promote and anticipate a large percentage of our viewers adopting this technology immediately. I'll be connected so close now with family and fans" stated Jose Luis Gonzalez, Executive Producer/Host. "Allowing for live and archived streaming of any of our episodes right from the watch with blazing speed was also a major factor in the decision as well as the integration of VidzMedia providing one click access to all archived episodes with unique, embedded interactive calls to action like Buy Now integration," continued Gonzalez.
"We are very pleased that "Te Compro Tu Historia" chose NexGen One and the new WOW Evolution Smart Watch. Having the most intelligent wearable in the world being promoted to a very large and prime market by such a wonderful personality, both on and off the camera makes for a relationship we all simply see flourishing as we move forward," stated Cliff Henley, CEO, NexGen One
###
About "Te Compro tu Historia"
This Talk Show Is produced and created by Tele Digital Media http://www.teledigitalmedia.com , a production company focused to develop and produce TV shows, Miniseries, National TV & Radio Ad Campaigns, Live Events, Music Videos and Massive Music Concerts. For more information contact teledigitalmedia AT gmail.com or (818) 585-6405.
About NexGen One
NexGen One focuses on creating/taking cutting edge products and/or services to targeted markets on a global scale. WOW Wearables http://wowwearables.com is a great example of this. For additional information visit the website, email at contact AT nexgenone.com or by phone at +1-805-626-8611.
NexGen One & Wow Wearables
Cliff Henley, CEO, NexGen One
http://wowwearables.com
Phone 1-805-748-6633
Email contact AT nexgenone.com