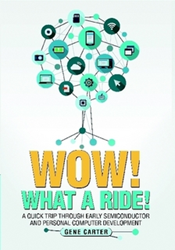 SARATOGA, Calif. (PRWEB) April 29, 2016
"Wow! What a Ride! A quick trip through early semiconductor and personal computer development" (published by Lulu) explores the history of communications technology from an author who built a career in electronics in Silicon Valley.
Gene Carter explains how the past 50 years has seen dynamic growth in computer and communication technology that has helped grow the world's economy by advancing the complexity of a semiconductor device from small- and medium-scale to large- and very-large-scale integration.
"The engineers behind these developments are the unsung heroes of the semiconductor age," Carter says. "From the first transistor on a chip to the billion-transistor microprocessor on a chip brought new challenges that required new solutions and new products. The microprocessor made the desktop computer a reality."
Carter tracks the technological advancements in hardware and software development, and the creation of innovative companies and distribution channels, through his synopsis of the Apple Computer evolution, to give readers an overall view of the personal computer industry. "Tying all these developments together, which are intertwined, with the evolution of the semiconductor over a 50-year period brings me to the reason for the name of the book: 'Wow! What a Ride!'"
"Wow! What a Ride!"
By Gene Carter
Softcover | 5.83 x 8.26in | 134 pages | ISBN 9781483446783
E-Book | 134 pages | ISBN 9781483446790
Available at Amazon and Barnes & Noble
About the Author
After a stint in the Navy, Gene Carter graduated from the Milwaukee School of Engineering in 1960 and began his career at Sandia Corporation, a research and development facility for the Atomic Energy Commission in Albuquerque, New Mexico. He worked on the development of early-stage semiconductor technology for weapons-grade electronics. His career continued toward semiconductor product marketing at Fairchild Semiconductor and National Semiconductor, and then into sales management for personal computers at Apple Computer Inc. Carter has lived in Silicon Valley for over 50 years.
Lulu empowers people of all ages to explore and express their interests, passions and expertise through books, photography and art. Since introducing self-publishing in 2002, Lulu has empowered creators in more than 225 countries and territories to produce nearly two million publications. Lulu Jr. allows children to become published authors, encouraging creativity, strengthening literacy and building self-esteem. Picture.com offers professional photography of collegiate and professional sports, memorable and historic events, fine art and home décor. For more information, please visit lulu.com.