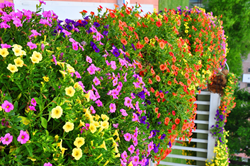 We take pride in each home and business we service and have become friends with most of them.
Cincinnati, OH (PRWEB) April 20, 2017
When Sue Schneider decided to create window boxes for her own house, she knew what she wanted: something that would not rot away, was easy to maintain and that would be a year-round beautiful addition to her home. She decided on using a PVC material, made them the sizes she wanted, added the ability to irrigate, and the first WOW Windowboxes were created. She received rave reviews from friends and family so she began making them for others to pay off her own boxes.
The uniqueness of WOW Windowboxes comes in when Sue Schneider decided they would not sit empty in any season. She wanted something that would be a beauty-added feature year-round. So she searched out plants that would thrive in each season. Her background of being a realtor made her aware of curb appeal, regardless if someone was selling their home or just living in it.
Bret Schneider, Sue's son, came from a background of product management, bringing his knowledge of the marketing arena. Together they have built the company from two employees to a full staff that works in their fabricating shop and others who install, service and maintain the WOW Windowboxes around town. In addition to Windowboxes, they also do existing containers and planters for clients.
"Windowboxes, in general, are not unique," Bret explained. "But what we do is we maintain the boxes for our clients. We never sub-contract the work, so we have a vested interest in our clients, some of them having been with us since the very beginning. We take pride in each home and business we service and have become friends with most of them." About 80% of their business is from homeowners and the rest from businesses.
When selecting plants for windowboxes, there is a particular knowledge about plants as to what will grow, what will thrive, and what will be easy to maintain. They start with a color selection from their clients and go from there. Schneider said that if a client loves yellow, or pink or red, they try to make sure they include those colors in the boxes. Then they measure the windows, custom make the boxes, paint them to match the house, and install them.
Their irrigation system works off the client's outdoor faucet, splitting the water flow so it is still usable with a hose, and adding a timer. Then they plant and watch the clients smile. When asked if they are on an annual contract, Brett explained that they prefer not to contract in advance. They enjoy contacting their clients seasonally, checking on the plants, finding out what they liked, or didn't like, and making changes if necessary. That is one way they keep their relationships strong, a piece of their business that Bret believes is one of the reasons they are celebrating 10 years.
Over the last 10 years, they have won many awards, been featured in multiple publications and on radio and television programs. They have sponsored the Cincinnati Flower Show, the Cincinnati Arts Association auction, Homearama and Citirama. They speak at numerous events, garden shows and organizational meetings.
"We have seen a big insurgence in the downtown area, particularly in Over the Rhine, and our WOW Windowboxes are a part of that landscape. We are proud of the growth of our company and the support that our customers have given us," Bret said.
To find out more about WOW Windowboxes, visit their web site at wow.windowboxes.com.
For interviews or details, contact:
Bret Schneider
WOW Windowboxes
513-519-5131