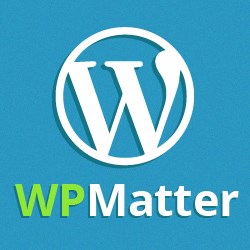 San Francisco, CA (PRWEB) January 13, 2014
On January 1st, 2014, the very beginning of this year, WPMatter was launched rebranding from the previous WordPress hosting review site WordPressHostingReview.NET with a more extensive goal to offer all kinds of WordPress-related resources to help beginners start and manage a website effortlessly. The most significant changes made to the new site are the missions and the visual design.
Founded in 2011, WordPressHostingReview.NET once focused on WordPress hosting review, coupon introduction, search engine optimization and some other topics on hosting. WPMatter, however, is set up to build a branded WordPress resource site with various quality tips, tutorials and guides on the software itself and web hosting.
Each classification is further sorted into small groups. For example, the tutorial part, which allows WordPress users to maintain and improve their websites easily, falls into coding, blog post writing, social networking, monetization, SEO, themes, plugins, news, and so on.
Redesigned with WordPress in mind, WPMatter is now in a clear and well-organized style. The navigation bar allows visitors contacting the editorial team, or browsing tutorials and reviews on dozens of web hosts like HostGator and GoDaddy in seconds according to their own needs.
Besides, there is a beginner's guide on the homepage introducing the basic steps for getting a WordPress blog started in 10 minutes - from installing the software to selecting must-have plugins.
The posts on the site are also categorized by "Recent Articles", "Popular Articles", and "Editors' Picks". Each of the categories includes some posts valuable for beginners. With this design, the rich contents are showcased and presented in an easy-to-understand way.
For more powerful assistance on website management, WPMatter also introduces useful tools that are needed to improve the blogging experience, such as Grammarly (a writing tool for grammatical error check), MaxCDN (a content delivery network for faster loading speed and better SEO) and Pingdom (a tool for website uptime monitoring).
The site is maintained by a group of professionals with over 5 years' experience in working for WordPress matters, all of who are fully devoted to the online blogging business.
Currently, WPMatter is on Google+, Facebook and Twitter.