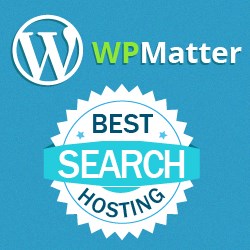 San Francisco, CA (PRWEB) January 24, 2014
WPMatter, a site dedicated to introducing and resolving WordPress related issues, today announced that since its inception, it has been partnered with the review site BestHostingSearch.NET for the utilization of unbiased web hosting review and rating data which is given based on months' or years' real hosting experience.
Rebranded from WordPressHostingReview.NET, a leading review site specialized in WordPress hosting, WPMatter not only offers guides on post writing, search engine optimization and blog management, but also introduces and analyzes web hosting services to figure out whether they are good choices for WordPress sites.
BestHostingSearch.NET has been working on web hosting review for 8 years. Trusted by over 30,000 webmasters, this site is maintained by a team of experts who set up real websites, host them on the reviewed services, and then monitor them to collect the statistics on the uptime and server response speed. The features and the quality of technical support are also tested.
Based on the experience, the editors make ratings on the overall value, performance, control panel and support. To make the data clearer, they also give charts which show the real-time monitoring results of the uptime and speed. In addition, there is a customer satisfaction chart containing the satisfaction rates of the real users who have submitted reviews on the site.
The partnership enables WPMatter to utilize reliable existing resources to achieve the goal of presenting impartial and quick results for company and product reviews by bringing a direct impression on all the important aspects, including reputation, feature, speed, reliability, support and price.
"We are looking forward to keeping a long standing cooperation with BestHostingSearch.NET because the data it releases is really trustworthy. Nowadays, there are not many sites that can be as professional as this one," said Joyce Liu, a technical writer at WPMatter.
About WPMatter
Founded in 2011, WPMatter has been grown to be a leading resource for tutorials on WordPress coding, SEO, themes, plugins, social networking and web hosting. So far, this site has helped more than 45,000 beginners in starting and maintaining their blogs.