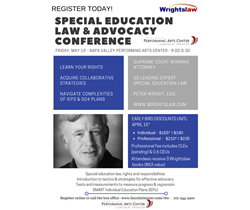 We have seen this informative workshop positively impact and empower those navigating the education system." —Nancy LaBelle, Executive Director, Down Syndrome Connection of the Bay Area
Yountville, CA (PRWEB) April 17, 2017
Parents of children with special needs, and the professionals who serve them, will have the opportunity to uncover hidden resources at the Special Education Law & Advocacy Conference in Napa Valley on May 19, 2017. Preregistration is required. Registration closes Friday, April 28.
For parents with children in special education programs, the complex world of IEPs, 504s and evaluations can prove daunting and downright overwhelming. Renowned special education law expert Pete Wright will share with parents and professionals his years of legal insight at a one-day conference in Napa Valley's Yountville, California. Wright will discuss the two recent unanimous U.S. Supreme Court special education cases and how he expects those two cases will be used to open more doors to the schoolhouse and the courthouse for children with special needs. Wright has long been among the most sought after speakers in special education law. This event is the first offered in Northern California in several years.
"After years of seeing fellow parents struggle with access to services, I came to the realization that we are not alone in this predicament," said Joanne Gouaux, the event's host sponsor. "Navigating the complexities of IEPs and 504s creates a tremendous weight on our families. By hosting this conference, I hope to empower fellow parents and professionals in advocating through each step of a child's K-12 education."
Over the course of a six-hour training, Wright will give parents, educators, healthcare providers, advocates and attorneys access to practical tools they can use with their children, students, patients and clients who have learning disabilities and other special needs. Working with a private attorney for that amount of time would ring in at $2,500 or more. This event offers access to invaluable legal experience and expertise for a fraction of that cost, in one of the world's great destinations.
The event's featured speaker, Pete Wright, understands first-hand what it means for a child to live with learning disabilities. As a young child, he was diagnosed with dyslexia, dysgraphia and ADHD. His life experience led him to pursue a career advocating for others with special needs. He has been practicing law for nearly four decades, and he has published six books on special education law and advocacy. In 1993, he successfully represented student Shannon Carter before the United States Supreme Court. The Florence County School District Four v. Shannon Carter case resulted in a unanimous decision in Carter's favor.
Wright focuses on helping parents cut through the red tape many encounter as they try to advocate for their children who may not be receiving the services or help they need to live up to their learning potential. He teaches parents how to act as their child's Special Education Manager with specific, proven tips on what to do and how to do it.
The conference agenda covers a variety of special education and advocacy topics, including: special needs assessments and evaluations; determining progress vs. regression; age equivalencies; individualized education plans (IEPs); strategies for parents advocating for their special needs child, including developing a long-term game plan and coping with conflict and crisis; and much more. It will answer such questions as:

What rights do parents have in a child's education?
Can the school do that?
How do I get more Speech, OT services?
What can I do for a child who's fallen behind in Reading / Math?
Can the school say they don't have the money to provide accommodations or resources?
Should the school pay for outside evaluations?
What is the school required by law to provide a child?
Can the school suspend my child for "behavior problems"?
How is my child really doing in school?
Does a child qualify for mainstreaming or inclusion (and what's the difference)?
Can the school say a child needs medication?
WHAT PARENTS AND PROFESSIONALS ARE SAYING
"I have attended Pete Wright's trainings and they are more than helpful for any parent or professional that is advocating for their child or student! I can't imagine being an Advocate without Pete Wright and his workbooks!"—Juliet Barraza, Parent and Professional Bilingual Education Advocate; Castro Valley, CA
"My motivation is very personal. Having two daughters who have a disability, I felt very overwhelmed and scared not knowing who to turn to in their early years. With the help of my fellow parents, we started a non-profit organization, called Challenged Family Resource Center, to help ease the fear that sometimes accompanies our Special Needs/Special Ed life by helping parents be resourceful, empowered and part of their child IEP team. I'm looking forward to attending the Wrightslaw Conference in Napa Valley to learn new tools that will be shared with the parents we work with here at Challenged Family Resource Center."—Jodie Frade, Executive Director, Challenged Family Resource Center; Merced, CA
"The Down Syndrome Connection of the Bay Area proudly supports individuals with Down syndrome, their families and other involved in their lives: medical professionals, educators, therapists and other professionals. We are grateful to have Peter Wright of Wrightslaw offer a presentation to Bay Area families about cutting-edge educational policy and law surrounding special education, advocacy and inclusion. We have seen this informative workshop positively impact and empower those navigating the education system," —Nancy LaBelle, Executive Director, Down Syndrome Connection of the Bay Area; Danville, CA
"As a grassroots movement composed of parents, educators and professionals concerned about the lack of access to appropriate educational services for dyslexic students in our public schools, Decoding Dyslexia CA is thrilled to have Peter Wright come to northern California. Wright's hands-on workshop will provide invaluable information to support our dyslexic community."—Tobie Meyer, State Director, Decoding Dyslexia CA
EVENT DETAILS
The Wrightslaw Special Education Law & Advocacy Conference will be held at the Napa Valley Performing Arts Center at Lincoln Theater on Friday, May 19, 2017. Conference hours are 9 a.m. – 5:30 p.m. The cost to attend is $190 for individuals and $235 for professionals. An early bird rate of $165 or $210, respectively, is available until April 21, 2017.
Preregistration by April 28 is required. An optional boxed lunch will be offered for $15. Each attendee will receive three of Peter Wright's books, valued at $62.85. Professional attendees will qualify for CLE and/or CEU credit. Register online at http://www.lincolntheater.com.
###
ABOUT JOANNE GOUAUX
Joanne Gouaux, the event's organizer and sponsor, is an advocate for children and teens with disabilities. Her professional and personal experience with special education barriers prompted her to work with attorney Pete Wright to bring the Wrightslaw conference to California. Joanne is a member of the grassroots group Decoding Dyslexia California, Parents Education Network (PEN) and the Northern California International Dyslexia Association.
ABOUT WRIGHTSLAW
Parents, educators, advocates and attorneys come to Wrightslaw for accurate, reliable information about special education law, education law and advocacy for children with disabilities.
ABOUT PETE WRIGHT
Pete Wright is an attorney who represents children with special educational needs. His advocacy grew out of his personal educational experiences.
Pete represented Shannon Carter before the U. S. Supreme Court in Florence County School District Four v. Shannon Carter, 510 U.S. 7 (1993) - the Court issued a unanimous decision on Shannon's behalf.
Pete is the co-author of Wrightslaw: Special Education Law, 2nd Ed. (2006), Wrightslaw: No Child Left Behind (2003), Wrightslaw: IDEA 2004, (2005), Wrightslaw: From Emotions to Advocacy, 2nd Ed. (2005), Wrightslaw: All About IEPs (2009) and Wrightslaw: All About Tests and Assessments (2014).
He appeared as the parent's attorney in the award-winning DVD video, Surviving Due Process: When Parents and the School Board Disagree - Stephen Jeffers v. School Board (2004).
ABOUT NAPA VALLEY PERFORMING ARTS CENTER AT LINCOLN THEATER
The Napa Valley Performing Arts Center at Lincoln Theater is a comprehensive performing arts center dedicated to the cultural and artistic well-being of the Napa Valley. From presenting world-renowned artists and producing Symphony Napa Valley, to creating and sustaining arts education and access programs in schools and at our theater, the Performing Arts Center is a 501(c)3 nonprofit organization that nurtures the artists and audiences of tomorrow, while sustaining a more vibrant and engaged community today.