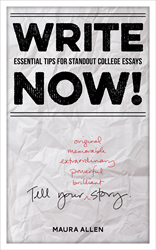 "Every student has a story. When written well, those stories will reveal more to a college admission team than all the test scores, grades or teacher recommendations combined."
SAN DIEGO, Calif. (PRWEB) October 02, 2015
High school students, college counselors, coaches and parents are invited to download WRITE NOW! Essential Tips for Standout College Essays e-book for no charge now through Monday, October 5th (midnight, pacific.)
As 7,000-plus admission counselors and coaches gather for the National Association for College Admission Counseling (NACAC) Annual Conference, demand for resources to help high school seniors and their families better navigate the complex and costly college application process are on the rise. The WRITE NOW! author's response? Make proven writing resources more accessible to all.
"WRITE NOW! helps applicants own the one part of the college admissions process in which they have TOTAL control—their essays," said Maura Allen, author of WRITE NOW! "Every student has a story. When written well, those stories will reveal more to a college admission team than all the test scores, grades or teacher recommendations combined. Whether it's a lack of time, confidence or conviction, too many students are submitting flat, predictable prose."
Understanding what draws readers in and what makes some writing memorable (and most forgettable) is a fundamental first step. WRITE NOW! walks applicants through the art and science of strong writing, including the first-person narrative style required in college essays. But ultimately, recognition of individual strengths, challenges and the stories that reveal those is what's essential for a standout college essay—and what WRITE NOW! helps students hone in their own voice.
"There's a big myth that the best essays recount monumental moments—climbing Mt. Everest, winning a championship game, building houses abroad. Instead, it's the in between, every day moments that reveal the most about an applicant's character and constitution. No surprise, that's true for all of us," said Allen.
A detailed look at the five Common App prompts, why this college and supplemental essays provides students with valuable insights for finding—then writing—stories that reflect who they are and what they're interested in pursuing. Robust editing exercises encourage applicants to invest time polishing their prose; time management tips, an essay tracker and "get unstuck" exercises keep them focused, confident and calm.
"College is an important step toward independence—that's why it's in everyone's interest for the applicant to own the first step on the path. Students are stressed, counselors are stretched. Add concerned parents to the mix and tensions can run high. Like a trusted coach, my goal is to provide proven tools and guidance needed for students to shine," added Allen.
To download WRITE NOW! for no charge, search "write now college" on Amazon.com. Exclusive on Amazon, the free e-book offer ends Monday, October 5th, 2015 at midnight pacific when the e-book will return to its $7.49 retail price.
WRITE NOW! author Maura Allen brings 30+ years experience working with individuals and organizations—from high school, college and MBA students to entrepreneurs and their Silicon Valley start-ups—helping them discover and share their stories in more memorable ways. No doubt, her love of words, grammar and diagramming sentences lured her into the Classics Department as a Stanford University undergraduate and set her on her path as a storyteller and writing coach. For more writing tips and resources, visit the WriteNowCollege.com.