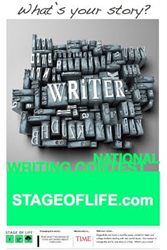 Not unlike the character, Mr. Vernon, in the film, The Breakfast Club, StageofLife.com is asking teens to submit a story that answers the question, 'Who Do You Think You Are?'
Chicago, IL (PRWEB) August 31, 2014
Blogging community, StageofLife.com, announces the launch of its 2014-2015 writing contests for high school students centered on the theme of teenagers digging into their identity.
Many college applications ask high school students to write a personal statement about who they are. Questions on these applications ask teens to consider where they are from, who they think they are, and what occurrences or forces in their lives shaped who they have become.
For its September writing contest, not unlike the character, Mr. Vernon, in the film, The Breakfast Club, StageofLife.com is asking teens to submit a story that answers the question, "Who Do You Think You Are?"
Rules for the teen essay competition include the following:
--Essays must be 500 words or less
--Essay must be a true, non-fiction vignette that defines the teen writer's identity
--Essay must be an original piece of work
--Essay must be submitted to StageofLife.com via the "Submit Essay" button by midnight PST on September 30th, 2014.
"Like the self-reflective journey Esperanza takes in 'House on Mango Street', by Sandra Cisneros, we want to kick off this school year by encouraging students to think about the things that have made them who they are today, whether it's their socio-economic status, a pivotal event in their lives, the craziness of their family...or something else," says Rebecca Thiegs, VP of Education at StageofLife.com.
Alongside the "Identity" writing prompt, StageofLife.com is featuring educational videos, quotes, a Twitter writing contest component, and other information to help encourage teenagers and college students to write and share their personal story.
"I'm excited to kick off our 6th school year running our teen essay competitions," says Michelle Pease, Senior Editor at StageofLife.com. "We've been fortunate to see thousands of teen writers participate in the blogging community on StageofLife.com over the years, and every story we receive has the chance to help with our mission of making the world a better place."
From an Editorial team perspective, while the 20 Stage of Life writing contest judges will select a couple of stylistic winners, "we will celebrate all of the stories that are submitted for this month's contest," concluded Thiegs.
Two winning essay writers (one teen and one adult) will be selected from across all submitted stories and will receive a prize package from StageofLife.com including gift cards from educational sponsors IHOP, Applebee's, Papa John's, and SpaWeek.
A new writing contest for students will be released on the 1st of each month throughout the 2014-2015 school year on http://www.StageofLife.com. Writing contest details, prize information, and educational writing resources can be found on the site.
StageofLife.com is a privately funded, startup company founded in 2009. The website's mission is to change the world, one story at a time. With over 20,000 stories shared from student bloggers across the world, the site welcomes nearly one million student, teacher, and parent visitors to its international writing community each year.